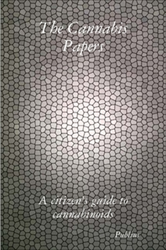 Homeostatic cannabinoid receptors … nature's healthcare modulators.
Chicago, IL (PRWEB) May 31, 2014
"Kidneys, skin and guts?" opened Bryan W. Brickner. "No, not a strange food item – just some cannabinoid science on homeostasis."
Brickner, part of Publius and The Cannabis Papers: A citizen's guide to cannabinoids (2011), utilizes new 2014 research from the National Institutes of Health (PubMed) and notes several findings, to include: a functionally active cannabinoid system (CS) present within the kidney; cannabinoid modulation of our keratin gene and skin health; and peripheral nerve targets in the gut for cannabinoid receptors.
Homeostatic Cannabinoid Science ~ Publius' May 2014 Roundup on the Bryan William Brickner Blog, highlights seven PubMed articles regarding homeostatic modulation and cannabinoids. The roundup includes new research on the urinary, neuroendocrine, digestive, serotonin and central nervous systems and their modulation by cannabinoids.
"Kidneys are part of our urinary system," Brickner explained, "and the science this month shows that activating our CB2 receptors has a beneficial effect in diabetic nephropathy (kidney disease)."
"With skin, the news is keratin," continued Brickner; "here, via the neuroendocrine system, CB1 receptors are reported to profoundly modulate keratin and the proteins for healthy skin."
"With the gut the news is about controlling gastrointestinal motility through both receptors ~ CB1 and CB2."
"Homeostatic cannabinoid receptors," Brickner closed, "… nature's healthcare modulators."
Brickner has a 1997 political science doctorate from Purdue University and is the author of several political theory books, to include The Promise Keepers: Politics and Promises (1999) and The Book of the Is: A book on bridges (2013). The Bryan William Brickner Blog is an ongoing resource for the political science of constitutions and the biological science of cannabinoids.
The Cannabis Papers is available at online retailers and for free by download.