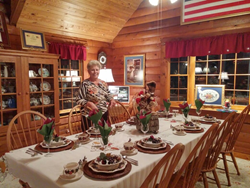 Prince George, VA (PRWEB) November 05, 2014
Kathy and Bill Parsley, owners of Scents of Cedar Bed & Breakfast just south of Hopewell and Petersburg, Virginia, have expanded their services to include weddings in the barn. Joining the trend towards rustic wedding chic, the Parsleys have hosted six wedding ceremonies in 2013-2014 and have booked six weddings for 2015.
In the spring of 2014 the Parsleys opened the Scents of Cedar Wedding Barn. They showed off the barn at a special ribbon-cutting and networking event hosted by the Hopewell-Prince George Chamber of Commerce & Visitor Center on October 30.
The barn is a 23-foot by 38-foot covered cedar structure accented with wine barrels, a church pew from a Petersburg church, a built-in buffet side board, a wall of galvanized tin art and hay bales for seating. Strings of white holiday lights provide soft lighting and opaque white curtains at the window and the barn's entrance act as a frame for wedding photos. The barn and the Parsley's 5.5 acre property can provide outdoor seating for up to 100 people.
Originally, the barn housed their 36-foot motor home, which the Parsleys used to travel across the U.S. three times. When not traveling in their motor home, they often stayed at bed and breakfasts and Kathy got the idea of becoming an innkeeper herself: she loves to cook and entertain. So they sold the motor home and decided to repurpose the barn into a wedding venue.
The Parsleys have been hosting guests at their 4,800-suare foot cedar log home since 1999. Bill supervised construction and design of the home in 1997 and it was featured in the Original Log Cabin Home sales catalog in 1998. After completing the main house, Bill added an 18-ft. by 36-ft. in- ground pool and pool house, the barn, a guest cabin and a one-acre pond with a fountain.
Guests enter the house through a large front porch or veranda into the Grand Room, which serves as living and dining area and kitchen. A stone fireplace dominates the Grand Room, which is accented with a collection of Civil War art reminiscent of the Civil War battles which were waged in this area in 1864.
Kathy and Bill have their master bedroom on the first (main) floor and two guest rooms are available on the second floor, accessible by a spiral staircase. Both upstairs guest rooms feature a queen-sized bed, bright colored quilts, needlework decorations and an adjacent bath with a cast iron tub and shower. There is a spacious common sitting room on the second floor landing and a huge family room on the lower level, accessible by the spiral staircase. Another guest room is adjacent to the family room. It has a queen-sized bed and a full bath. In addition, guests can book the 12-ft. by 24-ft. cabin (one room, one bathroom), which is located at the back of the property near the pond, where they can paddle boat or fish.
Scents of Cedar offers five different accommodation packages, which include Kathy's home-cooked meals. To honor veterans and their spouses, Scents of Cedar B&B offers a special Veteran's Tribute Package which includes a two-night stay in the room of their choice at a discount of 15% nightly. Both Kathy and Bill worked at nearby Ft. Lee, the third largest training site in the Army. Bill served 20 years in the Army and 20 years in Civil Service. He retired in 2003 and she retired in 2012. So they devote themselves full-time now to developing Scents of Cedar.
About Scents of Cedar Bed & Breakfast:
Offering home cooking and Southern hospitality, Scents of Cedar is a cedar log home turned into a bed & breakfast in 1999 by innkeepers Kathy and Bill Parley. The facility is located in Virginia's heartland, 30 miles south of Richmond, 12 miles from Ft. Lee, Virginia, the Army's third largest training site, and 15 miles from City Point in Hopewell, which served as headquarters for Gen. Ulysses Grant for ten months during the siege of Petersburg in 1864-65.
To reach Scents of Cedar, take Exit 41 off I-95 South; go two miles north on Route 35 to 15126 Providence Road, Petersburg. Scents of Cedar is located on a 5.5 acre wooded lot. For more information, call 804-732-9632 or visit http://www.scentsofcedar.com/. An appointment is required to visit.