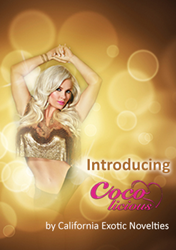 This is going to be amazing! I can't wait to meet my fans in South Africa.
Johannesburg, South Africa (PRWEB) September 22, 2014
California Exotic Novelties, the global leader in pleasure products, sponsors the Health, Sexuality and Lifestyle Expo, known as Sexpo, in South Africa. Happening at the Gallagher Convention Center in Johannesburg, Coco and her husband Ice T will be there for an exclusive meet and greet to promote the best-selling Coco Licious Collection, made by California Exotic Novelties. They will be there September 25th through the 28th at various times.
Coco says, "This is going to be amazing! I can't wait to meet my fans in South Africa at the world-renowned Sexpo Show. I'm going to have so much fun showing everyone the products in the Coco Licious Collection. Watch for pictures and updates from CalExotics and me on Twitter and Facebook!"
There are 12 items in the collection, and each is designed to intensify intimacy and heighten fulfillment. They include the Coco Licious Hide & Play Lipstick, Hide & Play Compact, Coco Licious Love Ring, Pleasure Bullets, Love Bunny Vibes, Fluttering Butterfly Vibes, Slender Tulip Vibes, Slender G-Vibes, Hide & Play Pocket Massagers, Back End Play, Booty Beads, and Play Beads.
Susan Colvin, President and CEO of California Exotic Novelties, says, "We've sponsored this show since its inception five years ago. Arthur puts on such incredible events and we are honored that he invited Coco to be there this year. The Coco Licious Collection is breaking sales records everywhere and I know everyone at the show will love it!"
Arthur Calamaras is the owner of the Sexpo Show. He says, "We're so happy to have Coco and Ice T visit us at Sexpo. The show is focused on educating people about the different aspects of lifestyle and sexuality, while also promoting all areas of healthy sexual relations. Coco and CalExotics are in-tune with our mission, which means this show is going to be an incredible event!"
All items in the Coco Licious Collection are made with body-safe materials and are waterproof for fun in the shower, bathtub or pool. They come in a seductive black, and a bright pink hue that is so unique, it is called "Coco Pink".
To follow Coco on Twitter, click here. To get her updates on Facebook, go here. California Exotic Novelties' can be followed on Twitter and Facebook, too.
Coco and Ice T will be at Sexpo signing autographs and meeting the public, on Thursday September 25th from 6pm to 8pm, on Friday from 6pm to 8pm, on Saturday from 1pm to 3pm and 6pm to 8pm, and on Sunday from 1pm to 3pm and 6pm to 8pm.
For more information about the Coco Licious Collection from California Exotic Novelties, visit http://www.CocosWorld.com. To see recent media coverage and to sign up for email updates, visit Club CalExotics.
About California Exotic Novelties
California Exotic Novelties is the nation's leading manufacturer of adult toys and novelties. Since 1994, the company has been at the forefront of research and development of products to enhance the sexual experiences of women, men and couples. From its 200,000 square foot operations center in Chino, California, CalExotics maintains a network of manufacturing and distribution facilities worldwide. Its products are available online and from retailers throughout the world.