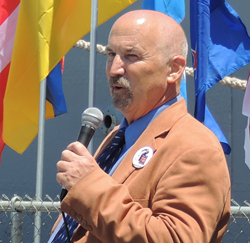 It's like having our own Edward R. Murrow or Ernie Pyle corresponding from the front, minus the bombs and bullets.
Harrisburg, PA (PRWEB) June 04, 2014
When veterans, heads of state, and tourists gather on the beaches and bluffs of France's Normandy shoreline this Friday to commemorate the 70th anniversary of D-Day, AMERICA IN WWII magazine will be there to provide coverage via Facebook and Twitter.
Filmmaker and author Jay Wertz of Phillips Ranch, California, will attend the anniversary events as a correspondent for AMERICA IN WWII. Wertz will capture video and photographic views of the ceremonies, the veterans, and the historic landscape, and upload them to AMERICA IN WWII's Facebook page, together with descriptions of the events and commentary. Wertz will also tweet photos, comments, and video links on AMERICA IN WWII's Twitter feed.
The coverage will be posted on Thursday, June 5, and Friday, June 6. It will include, among other things, views, video, descriptions, and reflections from the joint US–French ceremony at the Normandy American Cemetery and Memorial in Colleville on the morning of June 6. Wertz also plans to speak with American D-Day veterans attending the anniversary events, and to provide glimpses of the monument-studded historic landscape where the events of 70 years ago played out.
"This is an exciting new way to connect people with history," comments Jim Kushlan, publisher of AMERICA IN WWII. "We're constantly posting and sharing World War II-related content via social media, but this will be the first time we've offered close-to-live coverage."
"Having Jay over in Normandy is like having our own Edward R. Murrow or Ernie Pyle corresponding from the front," he says, "minus the bombs and bullets."
Wertz, a Pennsylvania native, has worked in Hollywood for nearly 40 years as a director, producer, writer, editor, and sound editor. He has also authored numerous historical books and magazine articles about World War II and the American Civil War.
Among the books Wertz has written is D-Day: The Campaign Across France (2011), a richly illustrated history of the Normandy Invasion focused on interviews with more than a dozen veterans. The book forms part of the series War Stories: World War II Firsthand. Wertz also produced and directed Smithsonian's Great Battles of the Civil War, an award-winning 13-part documentary series made for The Learning Channel and Time-Life Video.
AMERICA IN WWII has focused three issues this year on the planning, preparation for, and execution of Operation Overlord, the Allied invasion of German-occupied France. In addition, the magazine published REMEMBERING D-DAY, a 100-page special issue on the Normandy Invasion.
AMERICA IN WWII, now in its 10th year, is a bimonthly magazine about the American experience in the Second World War—the war, the home front, and the people. It is available at Barnes & Noble and Books A Million stores, and select other bookstores.
Subscriptions to the print edition are available at 1-866-525-1945 (toll-free). Digital editions for every handheld device, Mac, and PC are also available; check your device's newsstand or app store, or visit http://www.AmericaInWWII.com/subscriptions for links.
AMERICA IN WWII and AmericaInWWII.com are publications of 310 Publishing LLC of Harrisburg, Pennsylvania, a company committed to telling the stories of history in human terms.