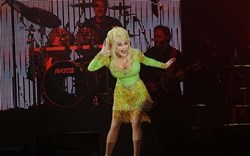 (PRWEB) December 20, 2013
Dolly Parton has announced two different sets of tour dates for her 2014 Blue Smoke world tour. Dolly Parton will bring her act to the United States in late January and again in May. This country music sensation has a very big following in the south so it comes as no surprise that her May tour with feature tour stops in Tennessee, Kentucky and North Carolina. For the best Dolly Parton tickets during her 2014 tour make sure to use Ticket Monster.
It is important to point out that many of Dolly Parton's tour stops will be at casinos. These casinos are located in Nevada, Oklahoma and California. One of the most popular stops on tour will be the trip to Thompson-Boling Arena in Knoxville, Tennessee. This show will be benefiting Dolly's Imagination Library and it won't be that far from her theme park Dollywood which is located in Pigeon Forge, Tennessee.
Over the course of her career Dolly Parton has had hits such as "Islands in the Stream", "Here You Come Again" and the classic "I Will Always Love You". No matter what decade you grew up there is a good chance you have heard the song "I Will Always Love You". In the 1990s Whitney Houston resurrected the song for The Bodyguard soundtrack and today country music stars sing the love ballad night in and night out while they are on tour. Make sure to get your cheap Dolly Parton tickets so you can hear the original version. Below are the 2014 Dolly Parton Blue Smoke World Tour dates:
Jan. 24 - Rancho Mirage, California - Agua Caliente Casino
Jan. 25 - Primm, Nevada - Star of the Desert Arena
Jan. 26 - Reno, Nevada - Reno Events Center
Jan. 28 - Phoenix, Arizona - Comerica Theater
May 22 - Tulsa, Oklahoma - Hard Rock Casino
May 23 - Tulsa, Oklahoma - Hard Rock Casino
May 25 - Cherokee, North Carolina - Harrah's Cherokee Casino
May 27 - Richmond, Kentucky - EKU Center For The Arts
May 28 - Knoxville, Tennessee - University of Tennessee (Benefiting Dolly's Imagination Library)
May 30 - Thackerville, Oklahoma - Winstar Casino
May 31 - Thackerville, Oklahoma - Winstar Casino
These are the limited tour dates that were initially announced from Dolly Parton while she was in Australia. Most would imagine there will be plenty more tour dates added to the schedule. Return to Ticket Monster to get that information and more. We provide sports, entertainment and media news on a daily basis. Anytime there is a concert or sports update you will be able to find all the information here on TicketMonster.com.