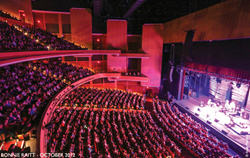 DPAC's Director of Programming for Concerts & Comedy Taki Pappas stated "It's great that a new theater outside of the usual finalists from larger markets gets nominated in this category.
Durham, NC (PRWEB) November 07, 2014
DPAC has become one of three finalists of the Billboard Touring Awards for the top venue under 5,000 seats. Other finalists include The Colosseum at Caesars Palace -- Las Vegas which has won the previous three years and Fox Theatre – Atlanta, which has been a finalist in the same category for three years. The winners will be announced live in New York City on November 20, 2014 at the Edison Ballroom where DPAC's Director of Programming for Concerts & Comedy Taki Pappas will be attending, representing DPAC at this significant event.
Established in 2004, the Billboard Touring Conference and Awards is an annual meeting sponsored by Billboard Magazine which honors the top international live entertainment industry artists and professionals. Billboard will honor the industry's top artists, venues and professionals of the year at the annual Billboard Touring Awards reception. These awards are based primarily on the Billboard Boxscore chart, recognizing true box office success and industry achievement between October 1, 2013 – September 30, 2014.
"The tours, artists, venues, events, executives and companies represented as finalists for the Billboard Touring Awards are pushing the boundaries of creativity to make live events a bigger draw than ever," says Ray Waddell, Billboard's Executive Director of Content and Programming for Touring and Live Entertainment. "In this era of fragmented digital consumption, live performance remains paramount in building and sustaining an artist's career."
Billboard also gives out its Legend of Live Award to a concert business professional who has made a significant and lasting impact on the touring business as well as its Humanitarian Award that recognizes philanthropic efforts within the touring industry, during this reception. Past Legend of Live Award recipients include: Journey, Rolling Stones producer Michael Cohl, Cellar Door Concerts founder Jack Boyle, Sir Elton John, pioneering agent Frank Barsalona, the Allman Brothers Band, Ozzy Osbourne, and Rush. Past Humanitarian Award recipients include: The Dave Matthews Band, Music Rising, Live Earth producer/CEO Kevin Wall, Jon Bon Jovi/Philadelphia Soul Foundation, Warped tour founder Kevin Lyman, Jack Johnson and Coran Capshaw. Other key awards include the Concert Marketing & Promotion Award, the Creative Content Award and the Eventful Fans' Choice Award.
Billboard Magazine is an American music magazine, headquartered in New York City, New York and is distinguished as being among the oldest trade magazines in the world. The magazine originally focused on bill posting and outdoor amusements before specializing in the music industry in the 1960s.
Billboard maintains several internationally recognized record charts, which track the most popular songs and albums across several categories on a weekly basis. Its primary charts are the Billboard Hot 100 and the Billboard 200, respectively ranking the top songs and albums regardless of genre. Song rankings are based on digital download sales, radio airplay and internet streaming, while albums are based solely on sales.
DPAC's Director of Programming for Concerts & Comedy Taki Pappas stated "It's great that a new theater outside of the usual finalists from larger markets gets nominated in this category. It's a wonderful recognition of the quality of our theater, the dedication of DPAC's staff and the passion of North Carolina concert audiences."
DPAC nears its seventh year anniversary on November 30, 2014 with the holiday favorite Carolina Ballet's The Nutcracker. Up next at DPAC are three nights of comedian favorite Dave Chappelle (Nov 7-9), heartland rocker Melissa Etheridge (November 11) and So You Think You Can Dance 2014 (November 12).
About DPAC:
With a mission of presenting one-of-a-kind live entertainment events, DPAC truly has "something for everyone," hosting over 180 performances a year including spectacular touring Broadway productions, high-profile concert and comedy events, family shows and the heralded American Dance Festival. Owned by the City of Durham and operated under the direction of Nederlander and Professional Facilities Management (PFM), DPAC has been listed three consecutive years as the #1 performing arts organization in the region by the Triangle Business Journal.
For more information please go to http://www.DPACnc.com