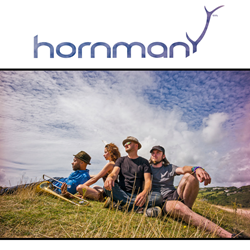 "I've followed hornman over the last year or so. Always entertaining and fascinating to watch, they are going from strength to strength!" says Kev Will of Urban Noize Radio
London (PRWEB UK) 30 September 2014
New live band hornman, unusually feature vocals from their brass section in combination with electric guitar, electronic basslines and live beats from various urban genres. Hornman have co-produced their debut EP with electronic producer Freddy Frogs, acclaimed by Sound on Sound magazine. Shortlisted for the Larmertree breakthrough music award 2014, hornman play the first of their EP release launch dates at Hootananny Brixton on Sat 24th Oct 2014. More information is available at http://www.hornman.co.uk.
Nearly two years young, hornman are rising from the labyrinth with a refreshing, distinctive East London sound. Hornman combine a lively stage presence with carefully produced electronic bass-lines and an unusual line-up that comprises lead vocals from the horn section, electric guitar and live beats. Various Urban genres are blended including house, dubstep, drum and bass, trip-hop, electro-swing, pop, funk and ska.
Hornman are very pleased to have co-produced their debut EP with Sound on Sound acclaimed electronica producer Freddy Frogs of Montpellier, France. The three track hornman EP will be released digitally and on CD and memory stick on Sat 4th October with a launch party at Hootananny in Brixton. The initial launch party will be followed by a series of Autumn 2014 launch gigs including The Canteen in Bristol on Fri 24th Oct and Proud in Camden on Sat 8th November. "Working with hornman has opened up new musical possibilities for me. I'm proud of what we've accomplished so far and we're really just scratching the surface – the future's very exciting" says Freddy Frogs.
"This is cool" was the response from Ruth Barnes of BBCRadio 6 and Amazing Radio wrote when Carl first messaged her with his "Swansea" single demo. This encouraged Carl to develop his modest shed studio where hornman currently write, record, produce and rehearse. The hornman EP and accompanying music videos are the results of dedicated collaboration. The humorous "Swansea" video is testament to the London band's willingness to go the extra mile. "Swansea" was shot in the Gower and Swansea itself using the band's smart phones whilst camping out over two days and is the first video up on youtube now at https://www.youtube.com/watch?v=F-iVeiEhwZE.
The hornman EP opens with "Swansea", a step-out, fun electro-swing tune with gypsy horn-lines, filtered saw-tooth bass and an upbeat inspiring message. In immediate contrast, hornman follow with "Personality is melting" which begins as an ambient trip-hop love-song with a deep-underwater, dreamy, almost sacred dimension and builds to a romping live drum and bass finale with a strong sax solo and sublime vocal harmonies. The EP closes with the more electronically produced "Winston", a dubstep-techstep oddysey of a song with powerful electric guitar and soaring vocal melodies.
All three singles are available for streaming now on soundcloud: https://soundcloud.com/hornman. "Winston" and "Personality is melting" videos are scheduled for release as the EP dates unfold through October and November and the EP is available for free download for one week only prior to release at http://www.hornman.bandcamp.com from Fri 26th Sept. Press, bookers and promoters should contact Carl Davies at hornmancarldavies(at)gmail(dot)com for press passes, interviews, free copies of the CD and promotional materials.
"I've followed hornman over the last year or so. Always entertaining and fascinating to watch, they are going from strength to strength!" says Kev Will of Urban Noize Radio who drove down to Bournemouth to support hornman in the finals of the Larmer tree breakthrough music awards earlier this year.
Working London's thriving Shoreditch and Dalston scene has built the confident, professional and entertaining presence which delighted hornman's sell-out crowd at Hootananny in Brixton at the end of 2013. "I'm thrilled to be launching our EP at Hootananny…they work really hard to keep their music live and of high quality and their crowd respond well to us" says frontman Carl. "I'm also really glad to follow up at The Canteen because the Bristol crowd really understand our music, hornman got three encores down there in the Spring".
The hornman live line-up comprises hornman Carl Davies from Stoke on vocals, sax, and electronica, Wayne Maslin of Jamaica via South London on vocals and trombone, Aoife Hegarty of Irish travelling descent on vocals, Simon Whitton from Bradford on guitar and Laurence Hill of Reading on drums. Freddy Frogs is French. The band met through Carl in Bow E3 East London and are drawn from friends, work colleagues and next door neighbours, all with diverse musical backgrounds. The level of musicianship in the band is high whilst the music remains accessible.
Hornman release their debut hornman EP on digital download, including itunes and amazon and also on CD and memory stick at their launch party at Hootananny in Brixton on Sat 4th October. Follow-up launch gigs include The Canteen in Bristol on Fri 24th Oct and Proud in Camden on Sat 8th Nov 2014. All three EP singles available now for free streaming on soundcloud and free download on bandcamp before Sat 4th October. For more launch dates and information visit http://www.hornman.co.uk.
Hornman combine infectious underground bass and beats with catchy horns, earthy guitar and psychedelic vocal harmonies. Influences: range from Talking Heads to Hot Chip, Faithless, Aphex twin, Charles Mingus and James Brown. Alchemical lyrics are provided by hornman's brass section who aim to provide a vibrant and entertaining live experience which touches on the sublime. Hornman co-produce with Sound On Sound acclaimed electronic producer Freddy Frogs.
Contact:
hornmancarldavies(at)gmail(dot)com
Tel: 07717223086
12 Vivian rd,
London E35RF
Links:
http://www.hornman.co.uk
Youtube: https://www.youtube.com/watch?v=F-iVeiEhwZE
Bandcamp: http://www.hornman.bandcamp.com
Find hornman on Facebook and Twitter:
https://www.facebook.com/hornmanmusic
https://twitter.com/hornmanmusic