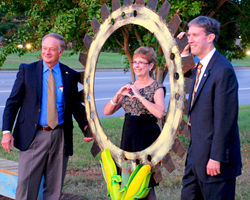 We really appreciate the Price George community. It's been a great community to work with.
Hopewell/Prince George, VA (PRWEB) October 13, 2014
Jim Perdue, chairman and CEO of Maryland-based Perdue Farms, joined more than 200 local business and community leaders on October 9 to celebrate the launch of the new Hopewell-Prince George tourism program by the HPG Chamber. Perdue attended the Chamber's 95th Annual Mixer, which marked the opening of the newly renovated HPG Visitor Center on Oaklawn Boulevard in Hopewell.
At the mixer, the Hopewell-Prince George Chamber unveiled its new LOVE sign at the HPG Visitor Center The multi-media sign, standing more than six feet tall and 24 feet long, is part of the Virginia Lovework program, a statewide branding initiative sponsored by the Virginia Travel Corporation. The LOVE theme ties the Hopewell-Prince George area into the "Virginia is for Lovers" messaging, which has been recognized nationally and internationally for 45 years. Perdue joined those in attendance by having his photo taken at the LOVE sign.
Opening his remarks, Perdue recognized the HPG Chamber's 95th anniversary: "One year older than us!" he said. Perdue's grandfather, Arthur W. Perdue, started the company in 1920 as a table egg business on the family farm in Salisbury, MD. Today, Perdue Farms is the third largest chicken company in sales and one of the largest grain companies in the U.S. It operates five grain elevators in Virginia.
Perdue's ties to Virginia date back to the 1980s, when Perdue Farms opened a facility in Richmond to cook chicken nuggets. Today Perdue Farms employs about 2,800 people at its six facilities in Virginia, including its Mid-Atlantic Replenishment Center in Prince George County.
Perdue said that the Replenishment Center, which his company opened around 2000, offers "a big benefit to serving our customers." The center added nearly 200 employees earlier this year, bringing the employment up to 500.
"We really appreciate the Price George community," Perdue said. "It's been a great community to work with."
Another special guest at the mixer, Todd Haymore, Virginia's secretary of agriculture and forestry, told the audience that agriculture represents a $52 billion annual contribution to Virginia's economy. He referred to Perdue as "a great corporate citizen" and thanked Perdue and his team "for what you're doing all along the East Coast."
Haymore said that the State of Virginia is partnering with Perdue on a trade mission to China in a few weeks. Haymore and Virginia Governor Terry McAuliffe were instrumental is ending China's ban on poultry shipments from Virginia after the avian flu scare affecting turkeys in Virginia in 2007. Perdue shipped its first poultry products to China in June.
Becky McDonough, CEO of the Hopewell-Prince George Chamber and engineer of the new tourism program, said, "You can't help but love the response we have received form the local community, both Hopewell and Prince George! Steve Galyean, director of partnership marketing development for the Virginia Tourism Corporation, said he was glad to be invited to see Virginia's 33rd LOVE sign. We all see this as a win-win campaign."