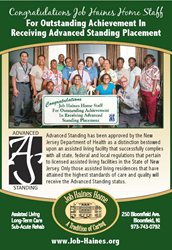 Attaining the Advanced Standing placement is not only an outstanding achievement for our employees but also a powerful reflection of their enduring commitment to providing quality care for seniors in so many ways
Bloomfield, New Jersey (PRWEB) September 19, 2014
The Job Haines Home, an assisted living residence in Bloomfield, N.J., has received "Advanced Standing" status from the New Jersey Department of Health in recognition of its high quality of service and standards. This distinction is bestowed upon an assisted living facility that successfully complies with all state, federal and local regulations that pertain to licensed assisted living facilities in the State of New Jersey.
The program Advanced Standing criteria were established in 2012 by the New Jersey Department of Health to create a standard that is designed to elevate quality of care at assisted living facilities. Although all assisted living residences are welcome to participate in the voluntary program, only those that have attained the highest standards of care and quality receive the Advanced Standing status. Additionally, these facilities prove their dedication to quality by participating in the National Center for Assisted Living's Quality Performance Measures Survey and by meeting the benchmarks for certain prescribed quality indicators as chosen by the Peer Review Panel of the Health Care Association of New Jersey Foundation.
The Job Haines Home, which has been in operation for over a century, offers a full scope of senior living services: assisted living, long-term care, sub-acute care and respite stays. It is named for Job Haines, a prominent Newark, N.J. businessman whose bequest of a parcel of land eventually became one of the nation's first facilities designed specifically for senior living. It moved to its current location in the heart of Bloomfield in 1903. In recent years it expanded its capabilities to include assisted living, skilled nursing and a sub-acute rehabilitation unit to meet the evolving needs of residents and the wider community.
The staff and operations at Job Haines Home were reviewed in the following areas:

Health care needs assessed and provided
Medications and treatments administered as ordered
Meal service and diet requests provided
Activity programs are provided and specific programming for residents with cognitive issues
Housekeeping services and kitchen sanitation
Employees are trained and licensed/certified as required
Medical record review for required care and services
"Every day, the staff at Job Haines Home upholds a long tradition of excellence," noted President and Executive Director Noreen Haveron, BSW, LNHA, MPA. "Attaining the Advanced Standing placement is not only an outstanding achievement for our employees but also a powerful reflection of their enduring commitment to providing quality care for seniors in so many ways."
For more information about the levels of care offered to seniors at Job Haines Home or to arrange a tour, call (973) 743-0792 or visit the website.
###