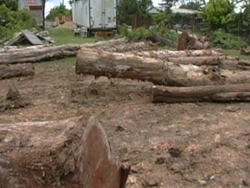 "We are only one step away from a total ban on cutting Honduras Rosewood." -- Ron Samuels
(PRWEB) September 19, 2014
Spikes in international timber crime and the demand for rosewood are threatening to end the production of concert marimbas as we know it, warns Marimba One founder and owner Ron Samuels.
For now, the Honduras Rosewood best suited to marimba manufacture is strictly regulated to preserve commercially available tone wood, he says. "But we are only one step away from a total ban on cutting."
Widespread poaching in southern Belize, Guatemala and Mexico is fed by intense demand from China's furniture industry, where rosewood is highly popular and generates big profits.
Belize has imposed a ban on cutting, pending completion of an inventory of its rosewood trees. "The ban is a good thing, in the interests of having environmentally sound rosewood harvesting," Samuels explains. "The inventory will provide a more accurate understanding of how much rosewood remains, the rate of regeneration and how much can be cut on a sustainable basis."
The fate of rosewood in the music industry is bound up with what a new "rapid response" assessment by the United Nations Environment Program (UNEP) calls a full-blown "environmental crime crisis."
The 2014 UNEP report warns that the illegal forest and wildlife trade has attained an "alarming pace, level of sophistication and globalized nature" across all continents, worth an estimated $70 billion to $213 billion.
Perversely, despite the lucrative profits reaped in the Third World, "the illegal trade in natural resources is depriving developing countries of billions of dollars in lost revenues and lost development opportunities, while benefitting a relatively small criminal fraternity," says UNEP Executive Director and U.N. Undersecretary General Achim Steiner.
This presents a security threat as well as an economic and environmental danger. Forest crime provides revenue to non-state militias and terrorists with global connections.
An estimated 35–90 per cent of the wood sourced from some tropical countries is suspected to come from illegal sources or has been logged illegally, according to UNEP.
European Union Representative Giovanni Coviello said at a July conclave in Geneva of the CITES (Conference on International Trade in Endangered Species), founded in 1973, "Illegal logging accounts for up to 30 percent of the global timber trade. It contributes to more than 50 percent of tropical deforestation in Central Africa as well as in the Amazon and in South-East Asia."
Samuels has seen onsite the rapacious rosewood poaching in the hills of Central America. It is shipped out by night on everything from small-scale pickups to tractor trailers and dump trucks.
"At some point, a total ban will become an absolute certainty," he predicts, "because poaching is rampant everywhere and it's extremely difficult to police. The marimba industry will have to change and adapt as the years go by. Unavoidably, prices will become less affordable."