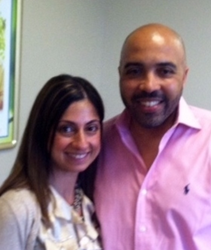 Milford, OH (PRWEB) July 14, 2014
In talking about why he chose Martinizing, John said, "It had always been a goal of mine to own a business, but it took some inspiration to act upon making a dream reality." He found that inspiration in his wife Mary, who has been a business owner for over 8 years. Researching several businesses and franchises over the past several months, John discovered Martinizing. He said, "Not only was the (Martinizing) franchise opportunity very attractive, but I had been a happy and loyal customer in Gahanna before I ever considered ownership."
John and Mary look forward to bringing high quality dry cleaning and job opportunities for others in the Northern Virginia market.
The Grays' store will join the family of over 400 Martinizing stores worldwide, celebrating over 65 years in the dry cleaning industry.
About Martinizing Dry Cleaning
Celebrating its 65th year as the most experienced garment care provider, Martinizing Dry Cleaning has more than 400 stores worldwide including: U.S., Canada, Ecuador, Peru, Indonesia, Hong Kong, and Japan. New stores feature cutting edge customer convenience and "Green" cleaning technologies that are safe for people, clothes, and the environment. Entrepreneur Magazine continues to rank Martinizing as the top dry cleaning franchise. For more information, please visit http://www.martinizingfranchise.com.
For more information about the Martinizing business opportunity, please contact:
Terry McGee
Director of Development
(800) 827-0207
Direct: (513) 699-4242
tmcgee(at)martinizing(dot)com