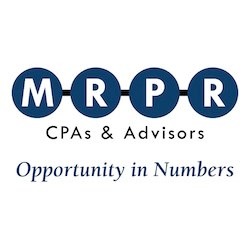 The logo is a word mark, symbolic of an abacus and counting in its simplest terms, but also represents people who connect to assume meaning when in relationship to one another.
Southfield, Michigan (PRWEB) January 06, 2014
MRPR CPAs & Advisors is celebrating 40 years of high-quality client service! "It was during this past year of significant focus on our strategic plan and vision for the Firm's future that we decided it was time for change," says Greg Zink, Principal at MRPR. "We have a unique culture at MRPR that we want to portray through this new visual identity – our focus on building relationships, connecting with others to enhance our clients' successes and always remembering that people build business! And, with all that combined, there are endless opportunities for our professionals and our clients."
MRPR's mission, vision and values, centered on a passion for quality service, will continue to mold and shape the Firm now and into the future. Over the past year and a half, MRPR has hired and merged in experienced professionals in response to clients growing and changing needs. There are new in-house service offerings, such as SALT (state and local tax) and R&D and Cost Segregation studies to name a few. The Firm also added an office in Ann Arbor, Michigan; this strategic move expands MRPR's presence in SE Michigan communities.
A switch to Enterprise Worldwide (EW) in December 2012 (an international association of accountants & advisors, made up of like-sized, liked-minded firms), has strengthened the Firm's commitment to FiveStar Client Service®. MRPR is held accountable through the association to continue its focus on improving client service from the inside-out.
Working with Identity Graphic Design (Warren, Michigan), MRPR spent several months reminiscing on the Firm's history, its founders, its people, its clients and contacts and most importantly who they are and their purpose. Firm Principal Angela Mastroionni, a part of the branding committee at MRPR, stated: "It was quite an involved process and we all felt strongly that our intent here was not to change who we are and not to change our culture, which for those of us who have been at the Firm for 15 plus years are very protective of. We also wanted something new & fresh that our young professionals could be proud of and relate their experiences to."
The logo is a word mark, symbolic of an abacus and counting in its simplest terms, but also represents people who connect to assume meaning when in relationship to one another. The circles are blue and the letters within represent, as before, the Firm's founding partner and the other partners who made the Firm what it is today - (James) Mathews, (George) Reich, (Anthony) Perna and (Mark) Rottermond. . "As accountants, we deal with numbers and people every day, but more than that we communicate, collaborate & make connections for a greater purpose and the best results," said Steven Everson, Principal. "The new brand tagline, 'Opportunity in Numbers' sums up the Firms promise to its clients and its people, that together there is tremendous opportunity to be had by all!" The new brand identity package includes an updated website, stationery and marketing materials.
Founded in 1974, MRPR is the brand name for MRPR Group, P.C., a full-service certified public accounting and business advisory firm based in Southfield and Ann Arbor, Michigan. As an integral part of the SE Michigan business community since that time, MRPR has become a leader among Michigan CPA firms, serving small to medium sized closely-held companies in various industries, including manufacturing, construction and real estate, transportation and distribution, technology, engineering and professional service firms, as well as not-for-profit organizations. Team members at MRPR are dedicated to proactively helping clients achieve their financial and business goals by offering innovative ideas and solutions that contribute to their success. Contact MRPR at (248) 357-9000 or visit us online at http://www.mrpr.com to learn more about MRPR CPAs & Advisors and how "Selecting the Right CPA Firm for Your Company" will benefit you and your business.