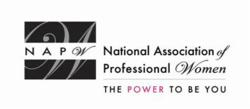 What I enjoy the most from my job is enabling others' success as well as demonstrating IT value within my company
Garden City, NY (PRWEB) March 18, 2014
NAPW honors Lydia D. Lewis as a 2014 Professional Woman of the Year for leadership in technology with this prestigious distinction. As the largest, most-recognized organization of women in the country, spanning virtually every industry and profession, the National Association of Professional Women is a powerfully vibrant networking community with over 600,000 members and nearly 400 Local Chapters.
"What I enjoy the most from my job is enabling others' success as well as demonstrating IT value within my company," says Ms. Lewis. "I am most fortunate to work with highly motivated leaders and team members within DLR."
As director of enterprise project management at DLR, a company that specializes in building global data centers, Ms. Lewis has responsibilities in a number of key areas including process improvement, vendor management, new products and services development. She has the ability to effectively communicate a project's objectives and collaborate with her team to develop creative solutions and successfully complete projects on time and on budget.
Ms. Lewis generously shares her professional success with other women through career mentoring and supporting educational scholarships. "Throughout my career I have learned that being a successful professional woman in the IT industry is definitely something to be proud of and should not be taken lightly," says Ms. Lewis.
About NAPW
NAPW provides an exclusive, highly advanced networking forum to successful women executives, professionals and entrepreneurs where they can aspire, connect, learn and achieve. Through innovative resources, unique tools and progressive benefits, professional women interact, exchange ideas, advance their knowledge and empower each other.