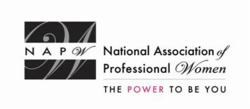 We have never had to compromise our values because BestLifestyle is founded on the Golden Rule.
Garden City, NY (PRWEB) February 10, 2014
NAPW honors Anne Boone, a BestLifestyle4U owner as a 2013/2014 Professional Woman of the Year for leadership in sales with this prestigious distinction. As the largest, most-recognized organization of women in the country, spanning virtually every industry and profession, the National Association of Professional Women is a powerfully vibrant networking community with over 600,000 members and nearly 400 Local Chapters.
When first introduced in 1979 to Shakelee's exceptional green worthy product line, Ms. Boone, an environmentally conscious consumer saw an excellent business opportunity. Today she is the successful owner and independent distributor of BestLifestyle, which carries the complete line of Shaklee products. When asked if this was her dream job Ms. Boone answered enthusiastically, "Absolutely! We have never had to compromise our values because BestLifestyle is founded on the Golden Rule."
Owning her own business for the past 34 years has afforded Ms. Boone the ability to live life on her own terms. It has given her the freedom to be a stay at home mom who could help support her family selling exceptional products and earning bonuses such as new cars, trips abroad and other awards from the Shaklee Corporation.
Now a successful Shaklee distributor and business owner, Ms. Boone is in the unique position of representing a company with environmental integrity. She is committed to making products such as nutritional supplements, beauty and household products and accessories available to the general public knowing that they are, "Always Safe, Always Work, and Always Green."
About NAPW
NAPW provides an exclusive, highly advanced networking forum to successful women executives, professionals and entrepreneurs where they can aspire, connect, learn and achieve. Through innovative resources, unique tools and progressive benefits, professional women interact, exchange ideas, advance their knowledge and empower each other.