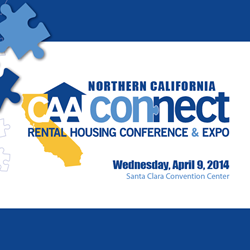 The Expo courses are premium training-critical to helping property management professionals face the pressing issues affecting our market today. - Laura Khouri, President of Western National Property Management
Santa Clara, CA (PRWEB) January 22, 2014
A rental housing expo and conference will debut this April, bringing together national experts, leading vendors and multifamily housing professionals from all over Northern California.
The event -- presented by the California Apartment Association -- is called CAA Connect - Northern California Rental Housing Conference & Expo. It comes to the Santa Clara Convention Center on Wednesday April 9.
Attendees can hear top rental housing executives and national experts offer their perspectives on the industry, including the effects of the economy and current political climate.
CAA Connect will feature 170 exhibitors and attract upwards of 1,000 attendees from California's leading property management companies and Real Estate Investment Trusts, as well as independent rental owners.
CAA Connect replaces CAA University & Expo. Unlike its predecessor, CAA Connect targets professionals from all of Northern California, not just the Silicon Valley.
The expanded expo, however, still focuses on education, and will offer courses on leasing, closing, retention, increasing occupancy, reputation management, evictions and more.
A Southern California version of CAA Connect heads to Long Beach in August.
At a glance
What: CAA Connect -- Northern California Rental Housing Conference & Expo
When: 9 a.m. to 5:15 .m. Wednesday, April 9
Where: Santa Clara Convention Center, Expo Hall B-D, 5001 Great America Parkway, Santa Clara.