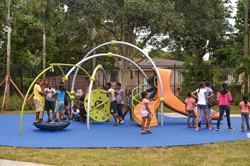 "Teco-Edg's recycled material is a much safer option for parks where children run and play than metal edging. Not only is the material softer and lightweight, but it is also designed to be hidden beneath the ground so it is unseen and out of harm's way."
Villa Park, IL (PRWEB) August 22, 2014
Oly-Ola Edgings, a leading producer of premium grade 100% recycled commercial paver restraint and landscape edging products, donated Teco-Edg™, a 6" high 100% recycled edge restraint, to the Gratigny Plateau Park project in northwest Miami-Dade, FL. Gratigny Plateau Park is located in an underprivileged community where space for children and families to play and spend time outdoors is scarce. The park officially opened to the public on August 6, 2014.
Along with various fitness stations, a toddler playground, seating areas and a butterfly garden, Gratigny Plateau Park also includes new walking paths designed to resemble a flower and its roots, signifying the beginning of community's new life. Oly-Ola Edgings donated 300 feet of Teco-Edg™ to line the playground surfacing.
Teco-Edg™ is a "green" alternative for edging products. It is made of 100% recycled PVC strengthened by impact modifier and UV inhibitor, and is engineered to last the lifetime of any project it is utilized in. It features an L-shaped design and specially-engineered drainage slots. Teco-Edg™ is a great choice for the park's playground surfacing since it provides a hard wearing, durable walking surface yet allows water to runoff.
Originally, the plan was to use metal edging to line the playground surface. However, after officially partnering and collaborating with Oly-Ola Edgings, it was clear that metal edging would not be the right choice for the playground area.
"A PVC landscape edging is much safer for children and pets. Metal landscape edging tends to heave from the ground, causing the edges to protrude. Children and pets can get cut after stepping on the metal edging and if the edging has rusted, the problem becomes more serious and the victim may need tetanus shots," Aymie Clayton, Oly-Ola Edgings sales manager, said. "Teco-Edg's recycled material is a much safer option for parks where children run and play than metal edging. Not only is the material softer and lightweight, but it is also designed to be hidden beneath the ground so it is unseen and out of harm's way."
After two years of planning, fundraising and construction, Gratigny Plateau Park was finally able to be built, thanks to a unique public-private sector partnership, spearheaded with the help of ABC News-WPLG Local 10 news station and its "Making a Difference" series. Through the non-profit Parks Foundation of Miami-Dade, in partnership with Miami-Dade Parks, Recreation and Open Spaces Department, a host of corporate donors and local businesses also provided funding, in-kind labor and materials to make the project possible, including Oly-Ola Edgings.
For over 35 years, Oly-Ola Edgings, Inc., headquartered in Villa Park, Illinois, USA, produces the most complete line of polyethylene/vinyl edging and paver restraints in the landscape industry. Oly-Ola promises the industry's strongest comprehensive guarantee: 100% Plus for 20 Years Includes All Freight and Labor. Oly-Ola's shipping policy is hassle-free. Orders are delivered by the industry's fastest shipping. Oly-Ola maintains a large inventory 12 months a year, so there are no back orders. Oly-Ola has an international distributor network and supports many national and state landscape organizations.
For more information, please call or write:
Oly-Ola Edgings, Inc. 124 E. St. Charles Road, Villa Park, IL 60181.
Phone: 800/334-4647. Fax: 630/833-0816.
E-mail: edgings(at)olyola(dot)com
Website: http://www.olyola.com