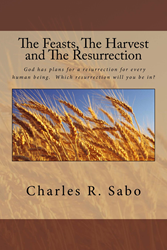 God has planned a resurrection for every human being that has ever lived; which resurrection will you experience?
Tucson, AZ (PRWEB) June 12, 2014
Up and coming Christian Author Charles Sabo has just released the book of the ages. As the world heads toward another year of events that are quickly leading to Jesus Christ's removal of His church, God has urgency to reveal His Redemptive Plan to the world. The Feasts, The Harvest and The Resurrection reveals how God has moved upon Israel and the World to bring His children to eternal life with Him.
The Feasts, The Harvest and the Resurrection explains God's plan for the humanity. After Adam and Eve sinned in the Garden of Eden, God gave mankind a promise for a redeemer to bring the human race back to a perfect world and relationship with Him. Man cannot bring redemption for himself; God needed to bring His redemption to mankind through His Son, Jesus Christ. There is an adversary that has desired to prevent this. God has managed to bring Christ into the world through a chosen people whom were subjected to many attacks and influences of this adversary. God used the Feasts of the Lord and the harvest schedule of Israel to show Israel how He would redeem mankind. Most of Israel fell ignorant to what God was planning and fell victim to the deceitfulness of the adversary. God still has succeeded to bring the first part of His plan to come to pass. Meanwhile, the adversary has a plan of his own. The book that you should read is The Feasts, The Harvest and The Resurrection so to understand how God has accomplished the redemption of mankind so far and the remaining work that is yet to be done. Not everyone will experience the Resurrection of Life; God has planned another resurrection for the others that do not receive His free gift of grace. Which resurrection will you experience? Visit http://www.charlesrsabo.com to order your paperback copy of this book; there is an additional link on the website to go to Amazon Kindle Store for an online download of this book.
The Feasts, The Harvest and the Resurrection brings the book of revelation to a new realization for those that want more understanding. The world is living in the endtimes and the rapture of the church is very soon. Every prophecy in the news brings mankind more reason to understand what is happening. All should read this Amazing Book so to be able to understand and experience the Resurrection of Life.