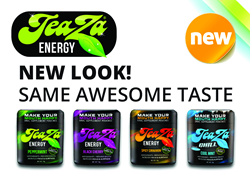 "We're growing during an exciting time for our industry, and our brand reflects that growth."--Dr. Brent Agin, CEO, TeaZa Energy, LLC
Clearwater, FL (PRWEB) November 19, 2014
TeaZa Energy, LLC announces today the unveiling of a new consumer-focused package design and brand messaging for its innovative herbal energy pouches. The new packaging is available immediately to customers online and is being gradually phased-in to retail locations.
The dynamic packaging is designed to enhance the value and brand awareness of TeaZa Energy. Brand presence in multiple markets has been growing since Trim Nutrition, Inc.—a medical company headquartered in Clearwater, FL that develops and manufactures high-quality dietary supplements—launched the product in 2012.
"We decided to transition our packaging to a design that was friendlier to both the retailer and consumer," TeaZa Energy's Co-founder and CEO, Dr. Brent Agin explains. "The result is a bold, yet simple design that allows consumers to more clearly identify with our product as a natural energy supplement, as originally intended."
The sleek, pocket-friendly, flip-top package is more compact and easier to open. Product trays and displays have been carefully designed and crafted to meet the merchandising needs of retailers as well as to optimize handling and transportation efficiency.
Maintaining TeaZa Energy's pre-existing brand essence 'Have More Energy Anywhere' and utilizing the existing color palate, they added a positive curved graphic system—like a smile—to compliment new messaging 'Make Your Mouth Happy'. High quality graphics feature outdoor sport activities consumers enjoy while using TeaZa Energy.
Along with the packaging transition, TeaZa Energy is showcasing its four most popular flavors—Peppermint, Black Cherry, Spicy Cinnamon and Cool Mint. Moving forward, limited edition flavors will be offered throughout the year.
"The new packaging commemorates a time of evolution for us," Dr. Agin says. "Just within the last year, we've hired several full-time staff members, released a new flavor and purchased new production equipment. We're growing during an exciting time for our industry, and our brand reflects that growth."
About TeaZa Energy
TeaZa Energy is an oral energy supplement formulated by a physician with natural ingredients. It is an herb and vitamin tea uniquely packaged in a small pouch for a safe delivery of smooth energy with no crash. TeaZa Energy is available in 5 flavors: Peppermint, Black Cherry, Spicy Cinnamon, Coffee and Fire; and TeaZa Chill with Relora is available in Cool Mint flavor. TeaZa is produced, packaged and distributed out of Clearwater, FL. TeaZa Energy is available online in the US and overseas and is in select retail locations throughout the US. For more information visit teazaenergy.com.