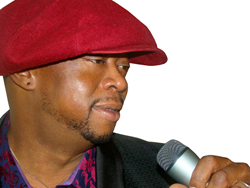 "I want to continue to bring a little different flavor, and format to the DMV as we showcase more and more talented individuals," says Marc Brown.
Washington, DC (PRWEB) March 31, 2014
Ladies and gentlemen will enjoy the party at the 21st Amendment as Marc Brown of MB Communications brings his humor, wit and charm to the stage where he showcases local comedians and artists in the DMV. "We have had two successful shows bringing up and coming artists and comedians to the scene. I want to continue to bring a little different flavor, and format to the DMV as we showcase more and more talented individuals", says Marc.
The night will be full of good fun, laughter, prizes, music for your ears, an excellent selection of drink specials and a chance to meet and greet the special guests:
Singer: LaTasha Ann'Toinette
Guitarist and Singer: Alex W. Young
Comedians: Kanron Ghods and Kasha Patel
Hostesses: Michelle Clark and Marie McDonough
Doors Open 6 p.m.
Show Starts at 7:07 p.m.
21st Amendment Bar and Grill
550 C Street, SW (inside the Holiday Inn)
Washington, DC 20024
No Cover
If you would like to be included on the special guest list please email: mbguest(at)707egroup(dot)com.
See Marc Brown Live! again on April 15th.
Marc has been on the scene doing comedy, voice acting and promoting events for over 10 years. Previously he has opened up for comedian Doug Stanhope and he can be seen all over the DMV captivating audiences. Recently he joined the 4th street Funnies in Troy, NY as he headlined the Troy Night Out Comedy show at Kokopelli's. Come support him and his variety show as he presents you with a night full of surprises.
Keep up with Marc and his humor by liking his Facebook page. Follow him on Twitter. View him on YouTube.
For additional information on booking Marc Brown to perform, email: booking(at)707egroup(dot)com.
About Marc Brown
Marc Brown is a versatile and skilled voice over professional and comedian. He is "The Voice of MBC" and his portfolio includes radio/TV voiceover, public service announcements, narrations, web scripts, recorded promos and more. Marc Brown also entertains crowds with his charming, humorous, and creative comedy act and has also been seen on the stage as a Master of Ceremonies, as a discussion panel moderator and he is the resident host for Russett Sharks swim team. His voice has been used in both the public and private sector projects nationwide. Marc is comfortable not only at the microphone but also on camera and in front of large crowds where he delivers your message right on cue and with a textured voice that is inviting and distinct; a voice that leaves the right lasting impression.
About 707 Entertainment Group
707 Entertainment Group, LLC (707) is an talent management and consulting company which specializes in providing comprehensive and individually tailored management services to some of the finest talent in the US. The company was founded in 2010 and is led by CEO Michelle Clark, President, Marie McDonough and their dedicated team of managers and associates, who all share a passion for music, entertainment and a commitment to excellence. 707 collaborates with venues, record labels, PR agencies and promoters all around the US.