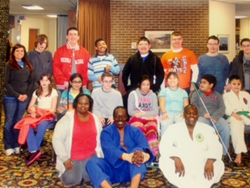 Your success and happiness lies in you. Resolve to keep happy, and your joy and you shall form an invincible host against difficulties. - Helen Keller
San Francisco, CA (PRWEB) April 08, 2014
Coach Wilbert (Will) Merriweather, a US Marine Corps Veteran, has been practicing Judo for over 60 years. He is now imparting his Judo skills to blind and visually impaired children, young adults and individuals by calling upon one of the blind athletes of the Blind Judo Foundation, an organization dedicated to introducing the blind and visually impaired (BVI) to the sport of Judo.
Coach Merriweather has been instructing deaf individuals in Judo but wanted to reach out further by offering those same benefits to the blind. Consequently, Merriweather contacted the Blind Judo Foundation (BJF) and having learned about some of their athletes (Judoka) requested specifically the help of nationally ranked Chris Jones.
Chris is visually impaired and absolutely dedicated to the sport of Judo. As a teacher of underprivileged children and an advocate for not only educational learning by his young students — he is also an advocate for their physical development as well — who would be a better candidate to support Coach Merriweather than Chris Jones?
Merriweather's Dojo, called Tae-Judo Club, meets and practices at the Adams Park Community Center in Omaha, Nebraska. He is no stranger in working with numerous community programs, YMCA centers, and other private and public centers.
With the sponsorship of the Nebraska Commission for the Blind, the endorsement of the Omaha Council of the Blind and Adams Park Community Center, blind Judo was successfully introduced. Positive impressions were felt not only to those sighted individuals who attended the event but the blind students and potential Judoka (Judo athletes) as well.
Kathy Brown-Hollins, a new student to the sport of Judo and one of the blind Orientation Counselors at the Nebraska Commission for the Blind, said, "My family is proud of me for trying new things but most of all, I am proud of myself."
The Association of Coach Merriweather and the Blind Judo Foundation will continue to bring vision and visibility to enhancing and empowering the blind through the sport of Judo.
The Blind Judo Foundation is a nonprofit 501(c) (3) organization whose mission is to empower the blind and visually impaired using the tools and tenets of Judo. The funding of blind and visually impaired athletes to train, attend camps, travel domestically and internationally is through tax exempt donations, their financial life-line. Your generous donations will help assure their success. To learn more about the Foundation, check out blindjudofoundation.org and at Facebook or contact Ron C. Peck at roncpeck(at)blindjudofoundation(dot)org or 1-425-444-8256.