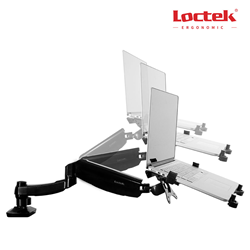 There are many straightforward solutions that can help students prevent the pain and illness associated with bad work practices. -Kristine Chow
Fremont, CA (PRWEB) August 20, 2015
Loctek, a leading manufacturer of laptop mounts and computer monitor mounts, has launched an initiative to educate students about ergonomics. As kids around the country head back to their schools and universities, the company is working to spread the message that it's never too soon to adopt healthy working habits!
According to a recent survey of 400 people, 39% of respondents experienced shoulder, neck or back pain either 'several times a week' or 'daily' after using their computers. This was an intriguing number, considering the fact that 82% of respondents had previously heard of ergonomics. Only 16% of people responding never experience shoulder, neck or back pain after using a computer. Loctek has launched its new Student Ergonomics Initiative to educate students about the dangers of unhealthy computer use while also sharing helpful ergonomic tips that will benefit them at school and throughout their careers.
"In recent years, there has been a growing momentum to improve workplace ergonomics at the office," says Kristine Chow of Loctek, "but the conversation needs to include educating students as well. Today's young people will spend most of their lives working with computers and they need to get into the habit of working safely as early as possible. The best part is, teachers and staff members will also benefit from teaching this information. Everyone can learn better health practices that can be implemented right away."
Loctek has published a student ergonomics page on their website that educators can refer to for the best ergonomic practices. Also available are ergonomic tips that will be especially relevant to students. For example, students should be advised to keep their backpacks light, be reminded to sit properly when playing video games on their computers, and be warned about the importance of keeping their laptop screens mounted to eye level when studying for long periods of time.
"92% of the students in our survey will use their laptops when they return to school this fall," Chow said. "We can't ignore the fact that laptops and notebook computers tend to encourage poor posture. There are many straightforward solutions that can help students prevent the pain and illness associated with bad work practices."
Schools and universities who wish to provide a healthier working environment for their students can enroll in Loctek's Student Ergonomics Program. The company has education materials available for interested teachers, school districts, university staff and professors. Additional promotional products and special school pricing is also available to schools that join the program.
For more information about the program, visit: http://loctek.us/back-to-school-student-ergonomics/
Additional survey data: 64% of respondents were students who will be attending classes this fall. 77% were aged 30 or younger. 91% of all respondents reported owning a laptop.
About Loctek:
Loctek designs and manufactures laptop mounts, monitor mounts, TV mounts, tablet stands and TV carts. Since 1999, Loctek has been producing innovative solutions to improve the safety, functionality and convenience of AV peripherals. Loctek is committed to providing ideal ergonomic solutions for the classroom, home and office.