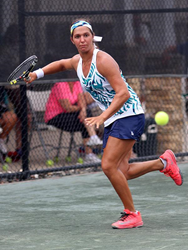 Bethany Beach, Delaware (PRWEB) May 27, 2015
Professional tennis returns to Bethany Beach with the fifth annual ResortQuest Pro Women's Open at Sea Colony, to be contested May 31-June 7, 2015, on the clay courts at the Sea Colony Tennis Center, located south of Bethany Beach on West Way Drive, just west of Kent Avenue.
Again sponsored by ResortQuest Real Estate® and ResortQuest® by Wyndham Vacation Rentals, as well as the United States Tennis Association (USTA) and UBS Financial Services, this USTA Pro Circuit singles and doubles tournament draws nationally- and internationally-ranked women tennis players in search of higher world rankings and a share of the event's $10,000 in prize money.
Top seed Canadian Gloria Liang, ranked No. 494 in the world, leads this year's global field, representing more than six dozen players from 10 countries on six continents. Last year's champion, Miami, Fla.'s Katerina Stewart, rose to No. 161 in the world after winning won four more singles titles after the 2014 Sea Colony crown and competed in qualifying for this year's French Open.
Qualifying matches will be held May 31-June 1, with the main draw – for singles and doubles - beginning on Tuesday, June 2.
Admission to the tournament is free.
In addition to singles and doubles play, the tournament events include and Junior Play Day on Thursday, June 4.
Earlier this month, Tennis Resorts Online ranked Sea Colony as the No. 9 tennis camp in the world, as well as No. 5 for best junior programs. A 2012 USTA Outstanding Facility of the Year, Sea Colony is among Tennis magazine's "Top 50 Tennis Resorts in the U.S." – including No. 3 in the Mid-Atlantic.
With 34 tennis courts, including six indoor and 14 Har-Tru, Sea Colony offers a wide variety of camps, clinics, and private lessons throughout the year for players of all ages and skill levels.
Please follow the tournament on Twitter at #ProSC and on Facebook at Facebook.com/SeaColonyTennis.
For more information about Sea Colony Tennis, stop by the Tennis Center at West Way Drive and Kent Avenue, call 302-539-4488, visit http://www.SeaColonyTennis.net or like them on Facebook (http://www.Facebook.com/SeaColonyTennis).
About Sea Colony
Selected as a 2012 USTA Outstanding Facility of the Year, Sea Colony has earned additional national and global honors, including being named a 2015 Top 50 resort and the No. 9 tennis camp in the world, by TennisResortsOnline.com, an online publication whose annual rankings are determined by tennis players. Sea Colony was also listed among Tennis magazine's Top 50 American Resorts in 2012, including No. 3 in the Mid-Atlantic region.
Known as The Premier Family Beach & Tennis Resort Community, Sea Colony consists of more than 2,200 homes. In addition to world class tennis, Sea Colony features a wide array of amenities including a private beach, 12 pools (two indoor, plus seven more for the kids), fitness centers, activities for all ages, in-season community shuttle and year-round security. The Sea Colony Recreational Association, which is responsible for the maintenance and promotion of the community's amenities and common areas, is professionally managed by ResortQuest Delaware.
About ResortQuest Real Estate®, Delaware & Maryland
ResortQuest Delaware Real Estate, LLC, a subsidiary of Wyndham Vacation Rentals North America, LLC, has provided real estate sales, vacation rental, and homeowner association management services to Bethany Beach, Sea Colony and other fine communities in Delaware's Quiet Resorts, Maryland and the surrounding coastal areas since the early 1970s. Its affiliate ResortQuest Delaware, LLC's homeowner association management division represents the needs of more than 6,300 homeowners in 49 associations from Lewes to Fenwick Island, Del. Wyndham Vacation Rentals®, part of Wyndham Exchange & Rentals® and the Wyndham Worldwide family of brands, is the world's largest professional manager of vacation rentals, providing access to approximately 103,000 vacation rental properties in more than 550 unique destinations worldwide. For additional information, visit our media center on wyndhamvacationrentals.com.
USTA is a registered trademark of United States Tennis Association Incorporated.