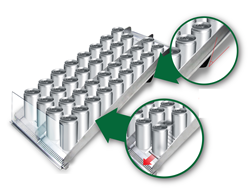 In tests, the 'Smart Roller' saved food and beverage retailers 1.5 hours per day of labour costs from reduced shelf management tasks and produced 5% sales growth.
(PRWEB UK) 25 March 2015
Every so often an item appears on the market that meets a consumer need no-one knew they had, but when it becomes available, everyone wonders how they lived without it. Sticky, yellow notes on paperwork are a prime example, along with baby car seats that attach to prams. Simple concepts, which make users lives so much easier. No more hunting for that page in a book in the middle of a work presentation, and no more grumpy babies woken up when transferring them from car to pram.
The Index Flexico Group's 'Smart Roller' invokes the same reaction in retailers. A shelf management system which uses natural gravity and clever design to reduce labour costs, improve stock display aesthetics and ultimately increase sales. In simple terms, the 'Smart Roller' works by storing items on an angled shelf, manufactured from materials which are durable and conducive to ensuring that when the front item is removed by a customer, the one behind it slides into place at the front of the shelf. Not only is the stock display looking tidy and inviting, there is also no need to manually move stock forward. If consumers can see your product, they are more likely to buy it. An assortment of accessories, including dividers and front retainer, can be positioned according to the individual product on display and be etched if required. The 'Smart Roller' is ideal for displays of bottles, tins and can be used in fridges; making it the perfect solution for fizzy drinks, bottles of milk, tinned goods, bottled detergents and spray products, etc..
The 'Smart Roller' is just one of the innovative products designed and manufactured by the Index Flexico Group. It offers a vast selection of Point of Sale and Merchandising products along with Packaging Solutions, including resealable bags. With its Head Office in France, Index Flexico has branches across Europe, with UK offices in Basingstoke and Colchester. Karine Schaefer, Managing Director of Index Flexico, explains the company ethos, "We are here to provide solutions to the problems our customers bring to us; our solutions sell our customers' products and allow them to optimise their time. In tests, the 'Smart Roller' saved retailers 1.5 hours per day of labour costs from reduced shelf management tasks (based on a 14 door cooler vault/store) and produced 5% sales growth. We are different from our competitors because we design and manufacture what we sell; we are a large company, and we provide an excellent service, which represents good value for money. Our aim is to provide our customers with the means to ensure their stock is attractive and visible to their customers; if it can't be seen, it won't be sold."
A world where every time you take an item off the shop shelf, a replacement automatically slides into its place; where you never have to rummage around at the back of the shelf for the last can of your favourite fizzy pop, will be as normal as finding yellow, sticky notes left all over your work desk thanks to Index Flexico's 'Smart Roller'.
For more information on the Smart Roller and Index Flexico's other products visit: http://www.flexico.co.uk/