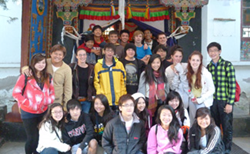 Welcome to Explore the highland of Tibet with Tibet Ctrip Travel Service with better services and better prices in 2015!
Lhasa, Tibet (PRWEB) January 30, 2015
Travelling in Tibet opens up a world of adventure and unique cultural experiences for those who make the adventure in 2015. Many visitors agree that Tibet drastically differs from other popular travel destinations and requires special preparation. Local Tibet Travel Agency Tibet Ctrip Travel Service-TCTS (http://www.tibetctrip.com) has been helping travelers discover Tibet for over ten years and updates travelers with the latest tips for arriving prepared.

Tibet's diverse geography can cause the weather to vary drastically between tour destinations. For sightseeing in Lhasa travelers will want to be prepared for chilly mornings that can turn into warm afternoons with intense sunshine. In higher altitude areas clothes that can be layered are the way to go, especially while trekking. A warm summer day can quickly become rain or snow then drop below freezing at night.
Lhasa sits at 3,650 meters (11,975 feet) so don't be surprised to notice the change in altitude immediately upon arrival. For travelers' comfort, Tibet tours by TCTS typically move at an easy pace the first couple days. Make sure to arrive hydrated and stay hydrated throughout the tour; this is the best way to avoid altitude sickness.
The local currency is the Chinese Yuan (RMB); expect to use cash for nearly all transactions. To avoid complications withdraw the cash you need before leaving Lhasa; reliable ATMs are located throughout the city.
Adequate preparation is key to getting the most out of a tour of Tibet 2015. Pack for a variety of weather conditions and be prepared to feel the difference in altitude over the first couple days. Finally, be ready to use cash for all purchases and remind travel group members to alert their banks of upcoming foreign ATM withdrawals. With these tips in mind travelers will be ready to hit the ground running when they arrive in Tibet!