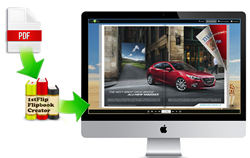 Convert PDF to flipbook and upload online instantly
(PRWEB) December 31, 2014
The PDF to Flipbook converting and publishing software 1stFlip Flipbook Creator for Mac from 1stflip.com has just been updated and released with fresh and fantastic flipbook template, LAN preview and search feature. Besides, the new built-in FTP client allows uses to upload flipbook to personal website and blog directly.
"1stflip.com has just released the update for 1stFlip Flipbook Creator for Mac with more powerful and attractive features, allowing users to upload flipbook to website instantly with the built-in FTP client", says John, marketing manager of 1stflip.com. Now 1stFlip Flipbook Creator for Mac provides two ways to publish page-flipping flipbook online: one-click uploading to 1stFlip Cloud Server and uploading using built-in FTP.
Newly added LAN Preview feature allows users to preview any flipbook on any device (Mac, PC, iPhone, iPad, Android devices) on the Local Area Network (LAN) before uploading or converting, which can be handy for users working together on a team or want to test the flipbook first.
Updated 1stFlip Flipbook Creator for Mac supports converting PDF to local page-flipping eBook in 4 formats: .html, .zip, .app and .exe. Convert PDF to .html flipbook to read it with a browser, .zip flipbook to send via email, .app and .exe to be opened as executable program.
1stFlip.com aims to provide the best page-flipping digital publication solution to all customers worldwide. 1stFlip Flipbook Creator for Mac is especially useful for displaying online magazine, brochure, catalog, etc. in an attractive page-flipping way other than the static and boring PDF. Potential customers can download the free trial version at http://www.1stflip.com/download.html. For more information about the 1stFlip Flipbook Creator for Mac, please go to: http://www.1stflip.com/flipbook-creator-mac/.
About 1stFlip.com
1stFlip.com is dedicated to offering branded page-flipping digital publication creation and release software and solutions for businesses and professionals. 1stFlip, focusing on simplicity in use and power in features, have helped users designed and delivered numerous professional digital page flip publications and has been widely acknowledged for excellent products and services.