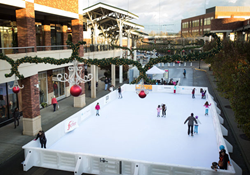 Redmond, Washington (PRWEB) December 31, 2014
Light up the New Year at the Glow in the Dark Skating Party from 4-8 p.m. on Jan. 1 at Redmond Town Center. All attendees will receive glow-in-the-dark bracelets, glow sticks and necklaces to adorn while twirling on the black-lighted outdoor skating rink. A DJ will liven up the SmartRink (which features synthetic ice) with freeze skate games and top-40 music. Admission is $5 per person for attendees age 5 and over.
The synthetic ice skating rink installed by SmartRink has been open at Redmond Town Center since November 22 and has been used by more than 5,000 skaters. Rental skates are available on site and are included in the prices.
SmartRink is a Canadian company based in Halifax, Nova Scotia with offices in the U.K., USA, Sweden, Australia and Switzerland.