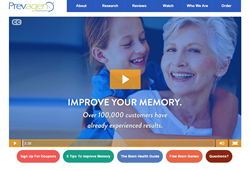 MADISON, Wis. (PRWEB) December 30, 2014
Quincy Bioscience announces the launch of its new Prevagen website. Prevagen is the company's flagship consumer product, a dietary supplement, which works to support healthy brain function and helps improve memory.
The new site is designed specifically for consumers, making the site even more user-friendly and easier to navigate. The website features many of the previous selections complemented by updated content, design and layout to best meet searching needs.
"We're pleased to provide an updated website for people to learn about Prevagen," said Mark Underwood, president and co-founder of Quincy Bioscience. "Whether visitors want a quick overview of Prevagen or they want to spend the time on a detailed explanation of the safety and clinical research behind the product, the site delivers both options."
In addition to new interactive Prevagen research reports, the new site allows users one-click access to various choices of memory-enhancing activities and specials directly from the home page:

Sign up to receive special offers and coupons
Receive memory-boosting tips and access all blog articles
Get a free e-book which offers healthy aging and memory tips
Play brain games to help boost cognitive performance
View updated videos detailing the technology behind Prevagen
To see the new site, please visit http://www.prevagen.com.
About Quincy Bioscience:
Quincy Bioscience is a biotechnology company based in Madison, Wisconsin, focused on the discovery, development and commercialization of novel technologies to support brain health in aging, with a specific emphasis on memory support and cognitive health. Quincy Bioscience is set apart by its cutting-edge applications of the patented protein apoaequorin, which has been tested to show improvements in cognition and memory in clinical trials. Learn more at http://www.quincybioscience.com.