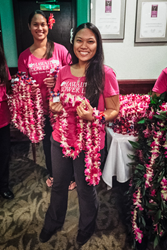 "We look forward to sharing our aloha with the people of Arizona," says Hawaii Flower Lei President Emily Steele
Honolulu, HI (PRWEB) December 31, 2014
Hawaii Flower Lei will sponsor the Mountain Stage at the 21st Annual Arizona Aloha Festival held at Tempe Beach Park March 7 and 8. The Honolulu-based florist will donate fresh lei to special guests and performers. Lei makers from Hawaii Flower Lei will be at the festival stringing and selling lei to promote and celebrate Hawaiian culture.
As one of the festival's biggest sponsors, Hawaii Flower Lei will be hard to miss. The lei seller will be located right next to the Mountain Stage where there will be live performances all day. The music, dance, and fresh fragrant leis are sure to draw crowds.
In fact, event organizers are expecting record breaking crowds at the Arizona Aloha Festival. Not surprising, considering there are over 500,000 Native Hawaiian or Pacific Islanders living in the western states. Folks travel from all over to attend this "fest in the west" as it has been called.
"We look forward to sharing our aloha with the people of Arizona," says Hawaii Flower Lei President Emily Steele.
This is the second year Hawaii Flower Lei is sponsoring the Mountain Stage, donating leis to all the VIPs, and facilitating two free lei making workshops at the festival.
Arizona Aloha Festival Chairperson, Lacretia Bacon says, "The festival just wouldn't be the same without fresh flower lei."
Hawaii Flower Lei specializes in shipping fresh Hawaiian leis nationwide.