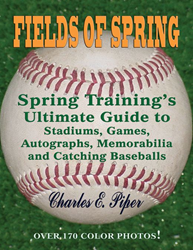 "Color photos of both Florida and Arizona are terrific!... Great book for baseball lovers who really want to get into the spring training experience." – Amazon.com reviewers
Friendswood, TX (PRWEB) December 31, 2014
Major League Baseball will soon be in the air as the 2015 Spring Training season opens February 19. Fans questing for a memory-making family road trip to catch balls, meet favorite players, and collect autographs will find plenty of how-tos in the new tour guide 'Fields of Spring.'
Written by Charles Piper, a fanatical fan who's toured all 30 MLB training complexes, it's the ultimate family trip-planner and baseball collectors' guide. As a former Federal Agent, Piper knows how to sniff out the best ways to vacation at any of the 15 camps in Arizona's Cactus League and the15 in Florida's Grapefruit League.
He chronicles the full, fun, family experience with 170 new, historic, and nostalgic color photos and gives hundreds of insider tips (called 'Foul Tips'). These include the best times and places get ball, bat and other autographs; meet players; see old-timers play; get ticket costs and schedules; plan trips and hotel stays; and create unique display cases and wall hangings for your treasured memorabilia.
An example of Piper's friendly, "been there, done that" advice tells the best way to collect autographs from favorite players:
1) Ask players to include abbreviations of their awards following their signatures, such as 'AL MVP 2005' for American League Most Valuable Player, or 'HOF 2009' for Hall of Fame.
2) Make it easier for a player to sign your item. Hold a ball between your thumb and index finger with your pen, cap end, sticking out between your index and middle fingers. To get your hand closer to the player if you're in the second or third row, turn to your side and stretch out one arm holding both the ball and pen.
3) Always use a ball-point pen – not a marker -- on a ball. Use markers for photos and baseball cards. Blue markers sometimes fade while black markers tend to leave a yellow halo over time. Instead, consider a black Sharpie autograph pen.
4) Magazine covers, newspaper articles, cereal boxes and other paper items with players' pictures make very economical and interesting autographing items.
'Fields of Spring' is an up-to-date baseball collector's guide and family vacation planner designed to help fans get the most out of visits to Major League Baseball's Spring Training parks. Visit the Fields of Spring website for a video and more information.
During the last 20 years Charles Piper has visited, often multiple times, each of the 30 Major League Baseball Spring Training complexes in both Florida and Arizona. He served 30+ years in law enforcement, including 20 as a Federal Agent, and currently owns his own company providing investigative, consulting, and training services. He is also an Army veteran.
TotalRecall Publications Inc. was founded in 1998 by Bruce Moran, a former NASA IT professional who transitioned into computer instruction and educational materials. The company began with the introduction of study guides and Q&A testing software for various computer and financial certification exams and expanded into library and information science textbooks in 2007. Since 2008, the publisher has expanded into general nonfiction and now publishes more than 200 non-fiction and fiction titles, all distributed worldwide through book retailers and wholesalers and via eBook databases such as ebrary, EBSCO, and Books24x7.com. http://www.totalrecallpress.com