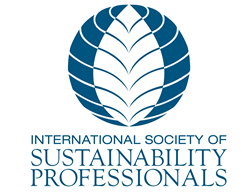 In order for sustainability professionals to be granted due credibility, the time has come for definition and standardization of the profession.
Hartford, CT (PRWEB) January 05, 2015
The International Society of Sustainability Professionals (ISSP) will begin administering beta exams in the spring of 2015 with the goal of formally launching the ISSP Sustainability Professionals Certification Program in November 2015. Other motivated and forward-looking industry players are rallying behind this industry-wide effort, as evidenced by the growing number of organizations who have signed a Declaration of Support that endorses the idea of a professional certification for sustainability professionals and supports ISSP as being the organization to make it happen.
"Since ISSP was formed in 2007, the field of sustainability has attracted hundreds of thousands of people from a variety of backgrounds who are doing work in this field and claim the title 'sustainability professional,'" says Marsha Willard, ISSP Certification Committee Co-Chair. "While the field has been enriched and informed by the diversity of expertise these people bring, it has also created inconsistency in practice and definition. ISSP and its supporters believe that in order for sustainability professionals to be granted due credibility, the time has come for definition and standardization of the profession. This involves defining, testing and verification of those competencies, assuring those who hire and employ sustainability professionals that they are getting highly qualified and talented sustainability professionals.
Working towards this goal, in 2010, ISSP published the results of its research on the core competencies of a sustainability professional. Then in 2013, ISSP published the job task analysis that will be the basis for the certification scheme. The group is now ready to lead the third step — the creation of a professional certification scheme.
The scheme for certification recently approved by the ISSP Board of Directors includes these features:
Two levels of certification: Sustainability Associate (SA) and the Certified Sustainability Professional (CSP).

The certification for the SA will be awarded to anyone passing a basic level exam which tests foundational conceptual knowledge of sustainability.
The certification for the CSP will be awarded to those who pass a more comprehensive test based on a job task analysis, demonstrate a minimum required combination of work experience and formal education, and sign the ISSP Code of Ethics.
Maintaining either certification will require professional development activities including a combination of related work experience, training, conference attendance, publication, and professional association involvement.
How You Can Get Involved
Development of the ISSP Sustainability Professional Certification Program has been designed as an open, inclusive, transparent process. There are a variety of ways to become involved, including:
Contribute test items to the databank. ISSP plans to generate about 1,000 questions from which both the ISSP SA exam and the ISSP CSP exam will be built. Only ISSP members and specially recruited professionals are being invited to participate. There is no guarantee that a submitted question will be included in the final databank but ISSP is eager to capture the vast expertise within its membership. Selected experts and ISSP members will receive a special mailing with a link to the item submission form in the next few weeks.
Participate in the Beta test. ISSP will be recruiting a limited number of people to participate in the Beta run of the certification scheme sometime this spring. Those participating will help ISSP validate the exam and test the application, scoring and awarding process. In exchange for helping to work out the bugs, beta testers will have the chance to be among the first certified professionals in the world. Announcements about the date and location of the beta test will be made in February.
Become a development partner. ISSP is seeking partnerships with organizations interested in providing funding or in-kind services to bring standardized certification to the field of sustainability consulting. In return, these partners will have the unique opportunity to help shape the future of the profession as well as industry-wide recognition as leaders in bringing newfound rigor, discipline, and consistency to the sustainability arena. All sponsorships include increasingly prominent logo placement and mentions in all certification marketing activities, along with complimentary ISSP memberships and discounted certification fees for larger sponsors. In addition to financial contributions, ISSP seeks support for its certification development efforts via the donation of in-kind services such as psychometric measurement, testing administration techniques and certification program marketing. Details about sponsorship levels can be found on the ISSP Website.
To discuss how your organization can get involved, please contact Maureen Hart, ISSP Executive Director, 99 Pratt St, Suite 200, Hartford, CT 06103 USA or email certification@sustainabilityprofessionals.org.
About ISSP
The International Society of Sustainability Professionals (ISSP) is the world's leading professional association for sustainability professionals. ISSP is a member-driven association committed to moving the profession of sustainability forward through building strong networks and communities of practice. Webinars, online courses, a sustainability certificate, sustainability professional's body of knowledge, special reports, resource directories, and salary surveys are just a sampling of the rich content offered to members. Formed in 2007, ISSP boasts hundreds of members from every region of the world. Members share resources and best practices, and develop themselves professionally. For more information about ISSP and its offerings, please visit http://www.sustainabilityprofessionals.org.