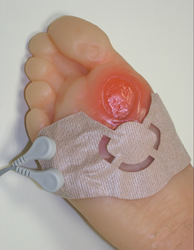 Increased oxygen level in ischemic tissue in the home-care environment is a major breakthrough in expedited healing of hard to heal wounds
Nesher, Israel (PRWEB) January 06, 2015
NanoVibronix, a medical device company which develops innovative therapeutic ultrasound applications, reported that a study titled "Surface Acoustic Wave Patch Therapy Affects Tissue Oxygenation in Ischemic Feet" has been published in Wounds journal by Jonathan I. Rosenblum et al. Shaarei Zedek Medical Center and New York College of Podiatric Medicine.
WOUNDS. 2014;26(10):301-305, Volume 26 - Issue 10 - October 2014
Ten patients with critical limb ischemia, selected from a vascular surgery clinic, were treated with Surface Acoustic Wave (SAW) device (WoundShield, NanoVibronix Ltd., Melville, NY). The WoundShield patch was applied on the dorsal area and active therapy was provided for 30 minutes. A TcPO2 monitor that was applied on the dorsal center of the foot and monitored transcutaneous oxygen pressure before, during therapy and for another 15 minutes post intervention, measuring drop-off in oxygenation.
The WoundShield device was found to significantly increase oxygen saturation level in the ischemic tissue in all patients by an average of more than 50%. The rate of the drop off varied, but no patient's values returned to pre-device usage levels.
"WoundShield SAW ultrasound technology has a positive effect on tissue oxygenation and saturation in ischemic feet" says Dr. Rosenblum. "In lower extremities that are not surgical candidates, or in the pre- or postsurgical environment, the device is a good therapy that can help treat both the subjective symptoms and objective signs and complications of CLI (Critical Limb Ischemia)" he added.
"The demonstrated WoundShield ability to increase oxygen level and saturation in ischemic tissue introduces an exciting solution for patient with chronic wounds" says Amir Rippel, Vice President of Marketing at NanoVibronix. "Increased oxygen level in ischemic tissue in the homecare environment is a major breakthrough in expedited healing of hard to heal wounds and this advanced treatment can be applied in parallel with traditional therapy."
The WoundShield carries the CE Mark certification.
About NanoVibronix
Located in Melville, New York with a subsidiary in Nesher Israel, NanoVibronix develops medical devices implementing its strong IP in therapeutic ultrasound technology. The company is expanding its portable, therapeutic platform to wounds care targeting expedited healing of chronic and acute wounds. NanoVibronix has also developed and markets the PainShield intended to treat pain and recover soft tissue injury and the UroShield catheter-based disposable ultrasound intended to reduce pain and discomfort and help prevent UTI in indwelling urinary catheters.