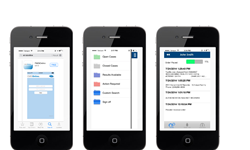 Delivering information to our clients faster and in a way that positions them to take action is at the core of what we do
Scottsdale, Arizona (PRWEB) January 06, 2015
Examination Management Services, Inc. (EMSI), the market leader in medical information, risk management and investigative services, has developed and launched a mobile application (app) for its robust online ordering and statusing tool, EMSIOnline. The mobile app provides users with the ability to instantly view, track and manage underwriting requirements securely and conveniently from their mobile devices, supporting EMSI's goal to lead the life insurance industry in mobile technologies that enhance the ordering and fulfillment experience and improve overall case communication for agents, advisors and the insurance companies they represent.
"Delivering information to our clients faster and in a way that positions them to take action is at the core of what we do," said Chad Gross, chief operating officer, Insurance Services, EMSI. "The mobile app provides EMSIOnline users with the same real-time status updates, but now our users have quick access to the information that drives their business in an easy-to-read format from their mobile device."
With the EMSIOnline mobile app, users can view real-time case status, message alerts and action-required notifications on requests for medical records, paramedical examinations, inspection services, medical record summaries, prescription drug profiles and other underwriting service requirements. Information is presented using case progression milestones, allowing for quick and easy viewing of case status. The EMSIOnline mobile app is available for iOS and Android devices. EMSIOnline users may download the mobile app by visiting Apple's App Store or Google Play on their device and searching for "EMSIOnline". Users log on to the mobile app using their existing EMSIOnline credentials.
"The EMSIOnline mobile app is highly secure," stated Ray Ann Cacheria, chief information officer, EMSI. "We have implemented safeguards to protect the information that is shared with us and no personal health information (PHI) is stored locally on the mobile device."
In addition to the EMSIOnline mobile app, a mobile-friendly website version of EMSIOnline is now available, offering convenient ordering, viewing and navigation from a mobile device at https://EOL6.emsinet.com. Earlier this year, EMSI also added text messaging (SMS) functionality to EMSIOnline for case status update notifications, a service available to all EMSIOnline users.
For more information about EMSIOnline, please contact insurancesales(at)emsinet(dot)com.