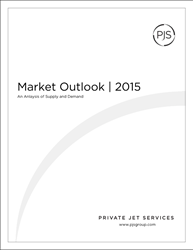 Seabrook, NH (PRWEB) January 07, 2015
Private Jet Services (PJS), a worldwide private aviation consulting firm, has released its 2015 Market Outlook report, detailing the forecasted demand for private aviation services into the new year.
Now in it's fourth year, the forecast details demand for specific aircraft types and explores reasons for potential factors impacting demand. While examining the current business and economic trends as well as analyzing survey data from users of private aviation, PJS has based the report on the below factors:
PJS Specific Demand & Economic Health
Global Business Aviation Demand
Aircraft Production and Availability
Current State of the Commercial Airlines
Efficiency of Business Aviation
The data within the report points to a steady continued growth of the private jet charter market - especially for business use, as 77% of survey respondents reported that their use of private aircraft was at least partially for business. The report also analyzes growing trends in commercial aviation and the impacts on private aviation - namely a decrease in comfort while increasing passenger capacity.
To download the full report, click here:
http://www.pjsgroup.com/2015-market-outlook-whitepaper
ABOUT PJS: Private Jet Services Group (PJS) is a corporate aviation consulting firm providing mission-critical flight services to a global clientele of corporations, professional and collegiate athletic teams, live entertainment tours, governments, and others who recognize the cost of their transportation is far exceeded by the cost of failure. PJS procures on behalf of those clients both VIP and standard configured airliners, regional aircraft, as well as light, midsize, and large cabin executive jets. PJS maintains a repeat-client rate in excess of 90% and this strong client loyalty is the best indicator of PJS' specialization, performance and reliability. PJS acts as an agent for its clients in negotiating and facilitating transportation with licensed air carriers. PJS does not own or operate aircraft. 
For more information, http://www.PJSGroup.com
For further information, please contact:
Michael Friedman
Private Jet Services
T (603) 659-9870
Michael(dot)Friedman(at)PJSGroup(dot)com