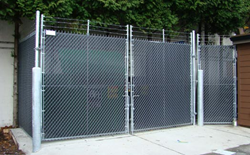 A fence can be used as an excellent photo wall, a Christmas light hanger or a backdrop on which garlands, stickers or assorted decorations can be hung
Vancouver, BC (PRWEB) January 07, 2015
Renowned Vancouver fencing company, QS Fencing, has recently published a blog that teaches people how to throw successful backyard parties using the company's innovative fence designs. The blog tells readers that throwing parties can become very difficult in residential areas because the neighbors might get disturbed by the music and noise. However, with appropriate fencing, anyone can throw a successful party without being disrespectful to their neighbors. The blog by QS Fencing, which can be found at http://www.qsfencing.ca/blog/host-backyard-party-fencing/, gives many other useful tips.
"A good fence can help minimize the sound of travelling music or the latest gossip at a girls' tea party from getting out," states the blog by the Vancouver fencing company. "You'd want to be anything but a bad neighbor, so if you're the type to host more than one in your backyard, fencing is certainly a good measure for being a respectful neighbor, especially in a residential neighborhood in Surrey, BC."
QS Fencing company tells readers that a good fence not only blocks out the sound, it also helps keep kids and pets from running outside the bounds of the backyard. It goes on to explain how, with a little bit of creativity, a fence can be used as an excellent photo wall, a Christmas light hanger or a backdrop on which garlands, stickers or assorted decorations can be hung.
About QS Fencing
Established in 2010, QS Fencing is a young family-owned business that aims to provide quality products and superior service. It is a Vancouver Fencing Company that is licensed and insured. All their employees are WCB insured as well. QS Fencing serves the geographical areas of Vancouver, West Vancouver, North Vancouver, Burnaby, New Westminster, Coquitlam, Port Coquitlam, Port Moody, Maple Ridge, Richmond, Surrey, and Delta, BC.
To place an order at QS Fencing, visit http://www.qsfencing.ca or call (604) 345-5145.