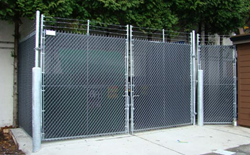 These high quality metal fences by QS Fencing are durable and strong, and can create an effective barrier in order to stop animals
Vancouver, BC (PRWEB) January 20, 2015
QS Fencing Company, a Vancouver fencing solution provider, has recently announced that they will now provide wildlife fences that would help keep out undomesticated animals. These high quality metal fences by QS Fencing are durable and strong, and can create an effective barrier in order to stop animals such as bears, skunks, raccoons, coyotes and deer from entering the client's property. The wildlife fences by QS Fencing can be used by residential, as well as, commercial clients to keep their properties safe.
"The typical wildlife crew you will likely encounter in your backyard will be of squirrels, skunks, raccoons, coyotes, geese and ducks, and urban deer," states a company representative. "Some areas in Surrey, BC and around Metro Vancouver may also have bear sightings. Such animals have been notorious for going through gardens and garbage. Their main goal is to find food – this is why they will be looking for your edible fruits and vegetables and your delicious leftovers!
"Generally these creatures will be tame and pose little threat to humans; however, there have been some recent media attention on incidents involving humans and wildlife. Some have been minor, but others quite severe. Coyotes and bears, for example, have a larger appetite than squirrels. It is therefore important to be aware of your surroundings and best to take precautions as you can."
About QS Fencing
Established in 2010, QS Fencing is a young family-owned business that aims to provide quality products and superior service. It is a Vancouver Fencing Company that is licensed and insured. All their employees are WCB insured as well. QS Fencing serves the geographical areas of Vancouver, West Vancouver, North Vancouver, Burnaby, New Westminster, Coquitlam, Port Coquitlam, Port Moody, Maple Ridge, Richmond, Surrey, and Delta, BC.
To place an order at QS Fencing, visit http://www.qsfencing.ca or call (604) 345-5145.