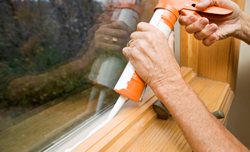 LINCOLN, R.I. (PRWEB) January 07, 2015
With the first winter cold snap dropping temperatures across the country, many people are turning up the heat in their homes. But there are other less costly ways for consumers to take away the winter chill.
The Department of Energy reports that Americans could save between 5 and 30 percent on energy bills by making efficiency upgrades. That's why Amica Insurance is sharing the following tips to help cut down on energy use in the home:

Open curtains on south-facing windows to naturally heat the home with sunlight.
Add caulking or weather-stripping to seal air leaks around doors and windows.
Replace the furnace filter once per month.
Turn down the temperature of the water heater to the "warm" setting (120 °F).
Keep the fireplace damper closed unless a fire is burning.
Install low-flow faucets and showerheads.
Only run the dishwasher or laundry machines when they're fully loaded.
About Amica Insurance
Amica Mutual Insurance Co., the nation's oldest mutual insurer of automobiles, was founded in 1907. The company, based in Lincoln, Rhode Island, is a national writer of auto, home, marine and umbrella insurance. Life coverage is available through Amica Life Insurance Company, a wholly owned subsidiary. Amica employs more than 3,300 people in 44 offices across the country. For more information, visit Amica.com.
CONTACT: Vince Burks, Corporate Communications, 50 Amica Way, Lincoln, RI 02865-1155, 800-652-6422, ext. 24563
Twitter: Amica
Facebook: Amica Mutual Insurance Co.