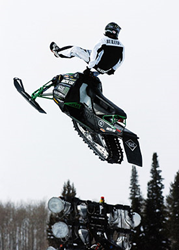 How cool would it be to have your design chosen for a pro rider who will be a top contender at the 2015 X Games?
Washington, Michigan (PRWEB) January 07, 2015
ArcticFX Graphics and champion snowmobile racer Chris Burandt have announced a contest in which fans and followers can submit a sled wrap design, through the innovative ArcticFX Graphics special app SledWrapR®, and the winning design will go on Burandt's racing sled for this year's annual X Games in Aspen, Colorado. Millions of sled enthusiasts will tune in to the extensive X Games coverage on ESPN, starting on January 22, 2015 and anticipation is high for the return of the HillCross snowmobile race.
ArcticFX Graphics will have several sponsored racers competing in this year's event. "And what better way to kick off the challenges than with a contest where our fans and social media followers can participate by entering their design for Chris Burandt's sled," said AFX founder Jordan Yankee. "It's so simple to submit your ideas through our one-of-a-kind app SledWrapR®. One click from the ArcticFX homepage gets you into the app, and the rest is up to your imagination. One winning design will be chosen, then we produce it and get Chris' sled ready for the international exposure on ESPN."
Snowmobile racing at this year's X Games Aspen will have a much larger role, with an expanded menu of sled events that brings back some old favorites. Sled racing enthusiasts have not seen HillCross competition for 10 years, and former X Games gold winner Chris Burandt has talked about his excitement to compete again in this unique discipline. "HillCross is basically an uphill drag race with huge jumps, and it's one of my all time favorite ways to race," said Burandt. Buttermilk Mountain, owned and operated by Aspen Skiing Company, has undergone a $10 million base area facelift, but more importantly after 14 years of staging on Buttermilk, the athletes agree that the venues for the respective events could not be more perfectly designed.
The sled wrap design contest for Burandt, through SledWrapR® at ArcticFX Graphics, has a short window, with the winner being chosen on Friday, January 9. There will also be some Burandt swag giveaways to promote his new venture, http://www.burandtv.com, as a part of the contest. "Snowmobile riders take great pride in the graphics on their machines," said AFX owner and sled rider Jordan Yankee, "and this was a driving force when we were developing our design-your-own-wrap interface. How cool would it be to have your design chosen for a pro rider who will be a top contender at the 2015 X Games?" Contest rules can be found on Chris Burandt's Facebook page.
About ArcticFX Graphics
ArcticFX Graphics and MotoFX Graphics are graphic design production companies based in Washington, Michigan, USA. Customers can design their own graphics for either snowmobiles or dirtbikes using a specially developed application available on the websites http://www.arcticfxgraphics.com and http://www.motofxgraphics.com. Both companies were created by owner Jordan Yankee, an avid sled rider himself.
Media contact:
Bryan Flinker
ArcticFX Graphics
12550 31 Mile Road
Washington, MI 48095
bryan(at)arcticfxgraphics(dot)com
586.786.9851