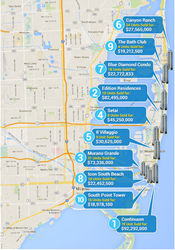 the Magic City of Miami, Florida stayed red-hot in 2014.
Miami, FL (PRWEB) January 09, 2015
After three consecutive record-setting years for Real Estate sales, the "Magic City" of Miami, Florida—and its fast-growing Luxury Condo market—stayed red-hot in 2014.
With the major annual numbers still weeks away from publication, South Florida-based Condo.com—provider of the world's largest online condo inventory—has compiled a quick report detailing some of the hottest, best-selling properties in the sun-soaked Metropolis …
Designed to help put the busy year of 2014 into perspective, this report contains a list of the top ten largest individual Luxury Condo sales (by dollar value) along with a list of the top ten highest-selling condo communities (with a focus on sales at $500,000 and above).
Clocking in at a whopping $92.29 million, the Continuum high rise nestled at the southernmost tip of South Beach topped the list of hot condo communities.
Driven by celebrity-oriented sales and a whopping 19 units sold, the Continuum barely edged out the luxurious new Edition Residences, located just up the road in the heart of Miami Beach.
Selling just ten units in total, the Edition Residences still made a dominating mark on Condo.com's list of top ten sales.
In terms of price per square foot, though, it was still edged out by The Setai, where an individual unit was listed at a whopping $5,950 per square foot (despite later selling at a discount).
Meanwhile, topping the list of condo mega-agents is none other than Jill Eber; half of the Miami Sales mega-team known locally as "The Jills." Over the course of years, this fascinating team of two friends has found their way to the very top of Miami's exciting Real Estate scene—with annual sales now in the neighborhood of some $600 million.
Making the biggest mark on this year's top ten list was none other than local celebrity Christopher Leavitt—known for his appearances on Bravo's popular Million-Dollar Listing Miami.
With four of the top ten Condo Sales listed under his name, Leavitt is proof positive that the right kind of marketing and exposure can make all the difference for realtors in competitive markets like Miami.
About Condo.com
Condo.com is a fast-growing, Miami-based online real estate marketplace and information portal that specializes in helping condo buyers & sellers find the best deals and meet up with the most qualified local professionals all over the country. By offering the world's largest online condo inventory along with thousands of user-generated reviews on individual condo communities, Condo.com has dedicated itself to building a more interconnected national community of condo buyers and sellers. Visit http://www.condo.com to learn more.
Disclaimer
This press release is for information purposes only and not intended to constitute, and should not be construed as, specific investment advice or a solicitation to purchase real estate properties or securities. All data compiled from aggregate MLS data currently available, and figures presented here reflect MLS data as entered.