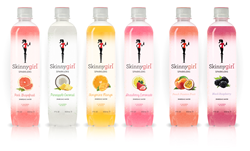 Woodbury, NY (PRWEB) January 08, 2015
Following the successful launch of the Skinnygirl™ Sparklers line, Bethenny Frankel and AriZona Beverages have joined forces once again to add two new flavors to the Sparklers portfolio.
Last year on her talk show "Bethenny," Frankel invited viewers to concoct a new flavor for the Skinnygirl™ Sparkler line. The winning submission received a $10,000 cash prize from AriZona Beverages USA. Single mom, Tressa Walker of Atlanta, Georgia submitted the winning flavor, Peach Passion Fruit. This new flirty flavor is full of sweet and bubbly deliciousness. AriZona Beverages is also launching Black Raspberry Sparklers, bursting with ripe berry taste.
During December 2014 in Walmart, Skinnygirl™ Sparklers Peach Passion Fruit and Black Raspberry joined Strawberry Lemonade, Pineapple Coconut, Tangerine Mango and Pink Grapefruit. The newest additions to Sparklers will continue to rollout nationally throughout 2015. Skinnygirl Sparklers are currently 2 for $1 at Walmart.
For more information on this or any other AriZona product, please visit: http://www.drinkarizona.com.
LINK TO PHOTOS OF SKINNYGIRL SPARKLERS
https://www.dropbox.com/s/dxwixa1sfyqvqkp/17oz-Slinnkgirl-Linup-300.jpeg?dl=0
####
About AriZona
Founded in Brooklyn, NY in 1992, AriZona's mission is to offer top quality beverages in uniquely designed packages that are accessible and affordable. AriZona Beverages — makers of the number one Iced Tea in America, holds a unique position in the global beverage industry with its iconic $0.99 big can and "keeping it real" no frills approach to the consumer market. AriZona never pays for glitzy advertising campaigns to gain consumer loyalty and is constantly ahead of the curve, carving out trends without the use of focus groups and market research. With a loyal following across various demographics, AriZona pulls its own inspiration from its fierce social media following and devoted fan base. To learn more about the AriZona lifestyle, please visit drinkarizona.com; Facebook: AriZonaIcedTea; Twitter: @DrinkAriZona
About Bethenny
From a natural foods chef to best-selling author, reality TV star and self-made businesswoman and mom, Frankel's wit, wisdom and humor first came to national attention when she was named first runner-up on NBC's "The Apprentice: Martha Stewart." Her success on the series led her to star in Bravo's hit series, "The Real Housewives of New York" for three seasons, as well as two spin-off series on the network, "Bethenny Getting Married?" and "Bethenny Ever After..."
Bethenny serves as the committed brand collaborator, developer and marketer for Skinnygirl Cocktails, one of the fastest growing spirits brands in the U.S. Frankel's Skinnygirl brand has grown to include a wide variety of products including non-alcoholic beverages, microwave popcorn, chips, hummus and dips, nutrition bars and even appliances. The brand focuses on creating products that provide women with practical solutions to everyday problems. She has been named one of the Top 100 Most Powerful Celebrities by Forbes magazine, featured in both Health Magazine and Glamour Magazine.
She is the four-time bestselling author of "Skinnydipping", "A Place of Yes: 10 Rules for Getting Everything You Want Out Of Life", "Naturally Thin: Unleash Your Skinnygirl and Free Yourself from a Lifetime of Dieting", "The Skinnygirl™ Dish: Easy Recipes for Your Naturally Thin Life". She has also authored "Skinnygirl Solutions: Simple Ideas, Extraordinary Results", the recently released children's book, "Cookie Meets Peanut," and cocktail book, "Skinnygirl Cocktails." She is a graduate of the Natural Gourmet Institute for Health and Culinary Arts. Bethenny lives in New York with her daughter, Bryn, and dog, Cookie. Visit http://www.bethenny.com
For more information contact:
Jennifer Smith, Communications Director, Jennifer(at)drinkarizona(dot)com (516) 812-0208
Gina Smeraldi, PR Specialist: gsmeraldi(dot)drinkarizona(dot)com (516) 812-0260