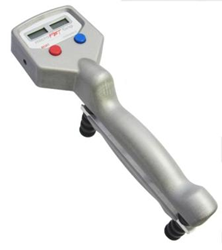 Salt Lake City,Utah (PRWEB) January 09, 2015
Hoggan Scientific, LLC, a company that manufactures wireless microFET medical dynamometers, ergoFET force gauges for physical therapy and ergonomics, and wireless RSI Rehab Strength Indicator sensor for resistance cord exercise and therapy, introduces its all new microFET Digital Handgrip Dynamometer, available at http://www.hogganhealth.net. The new microFET handGRIP was designed to offer an alternative handgrip to the already popular microFET4 dual function handgrip and pinch dynamometer, for healthcare professionals who prefer a device for just handgrip testing.
The new microFET handGRIP will debut at the APTA-CSM Annual Conference, February 4-7, 2015, along with other microFET and ergoFET devices. The microFET handGRIP features a durable lightweight molded body, utilizes precision electronic load cells to eliminate the possibility of oil leakage that can sometimes occur with hydraulic units, has easy-to-read digital display readout of force and time, and has REG or Rapid Exchange Grip testing function. Newly incorporated Bluetooth technology allows for the handGRIP to be used wirelessly for use with available Hoggan clinical software or data collection research software.
"At Hoggan Scientific, we strive to provide new innovations, and incorporate the latest technology into any new or existing product so customers know that they are receiving the best possible supplies. Our dedicated and knowledgeable employees have been serving the medical community for over 50 years, and as we move forward, we wish to continue providing equipment to healthcare professionals to document, reinforce, and support their treatment plan, to improve the quality of care for their patients," said Cynthia McKenna, Director of Sales at Hoggan Scientific. "We are excited to add another diagnostic device to our growing family of high quality products to offer customers."
To learn more and try out the new microFET handGRIP and other microFET and ergoFET products, visit the Hoggan Scientific Booth #531 at the APTA-CSM Conference. Or, to request information, please visit http://www.HogganHealth.net, or call 1-800-678-7888/801-572-6500 to speak with a representative. The manufacturer can also be found on Facebook at http://www.facebook.com/HogganScientific.
Contact Info:
Cynthia McKenna
Hoggan Scientific
3653 West 1987 South, Bldg. #7
Salt Lake City, UT 84104
Ph: 800-678-7888
Email: cindym(at)hogganhealth(dot)net