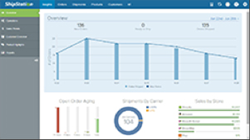 Austin, TX (PRWEB) January 08, 2015
Today ShipStation, the leading web-based e-commerce shipping solution, announced an integration with Globegistics, Inc., a USPS Postal Qualified Wholesaler and leader in international shipping.
ShipStation customers can now take advantage of single or bulk label creation for all Globegistics parcel services, access to competitive rates for Globegistics Delivery Duty Paid and Delivery Duty Unpaid services within their ShipStation account, and full tracking visibility to more than 30 countries around the world. Once a label is created in ShipStation, the tracking information is communicated back to the buyer and the marketplace to streamline the fulfillment experience.
"ShipStation is great to work with and is a key strategic partner offering a unique combination of shipping solutions and dynamic technologies to online retailers," says Robert DiVincenzo, President of Globegistics, Inc. "We look forward to continuously developing distinct service options that enable the retailer to leave the burden of shipping international parcels behind, so they can focus on opportunities to expand their marketplaces."
ShipStation's Vice President of Marketing, Robert Gilbreath, notes, "We're determined to integrate with every platform and shipping carrier that online sellers use for their e-commerce business. By officially adding Globegistics to our shipping carrier offering, ShipStation marches closer to this goal in the new year."
Globegistics is available now as a shipping carrier for all new and current ShipStation customers.
About ShipStation
ShipStation is the leading web-based shipping software that is built to help online retailers organize and process their orders, while fulfilling and shipping them quickly and easily. With automatic order importing from over 50 shopping carts and marketplaces, including eBay, Amazon, Shopify, Bigcommerce, Volusion, Squarespace, ChannelAdvisor, and more, and automation features like custom hierarchical rules and product types, ShipStation helps online retailers ship out their orders from wherever they sell, however they ship. For more information, visit http://www.shipstation.com.
About Globegistics, Inc.
Globegistics is a full-service global distribution provider for volume mailers and e-commerce companies offering world-class solutions for the delivery of mail, publications and parcels to more than 200 countries and territories worldwide. For more information, visit http://www.globegisticsinc.com.