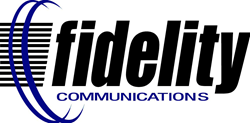 Rolla, MO (PRWEB) January 10, 2015
Responding to customer requests, Fidelity has returned KRCG, the Jefferson City CBS affiliate, to its Rolla channel lineup effective immediately. It will occupy the same slot, Channel 13, as it did prior to being removed December 31.
The relaunch came after Fidelity was able to negotiate amicable terms with Sinclair Broadcasting, owners of KRCG, consistent with what Fidelity believes is a fair market rate for the channel. "We received many calls from our customers, saying how much they enjoyed the channel and wanted it back," said Loren King, Video Product Manager. "After additional talks, Sinclair responded with a reasonable offer."
KRCG was initially dropped in an effort to keep rates lower. Dropping a network is never an easy decision, especially when the station is available to customers at every level of service and has local appeal, King said.
To make room for KRCG in the channel 13 slot, MyNetworkTV was moved to Channel 19. A digital box is required to view this channel. MyNetworkTV shows syndicated programming from different networks and is a KMOV-St. Louis affiliate. Its lineup includes Law & Order, Walking Dead, The Mentalist, Bones and Scandal.
KOLR, the CBS affiliate in Springfield, was replaced on Channel 10 by MeTV, a KMOV-St. Louis affiliate that shows classic TV from the 1960s and 1970s, including Carol Burnett, M*A*S*H, Perry Mason, Odd Couple and Star Trek. CBS programming will still be available on KMOV-TV, Channel 4, and on KRCG, Channel 13. KOLR required a large fee increase to continue carrying it.
KSPR, the Springfield ABC affiliate, is being replaced by KDNL, the St. Louis ABC affiliate, on Channels 18 and 418 (HD). Fidelity's new agreement with Sinclair requires in-market carriage of KDNL and does not allow out-of-market carriage of KSPR. Rolla is part of the St. Louis Designated Market Area (DMA).
Fidelity contacted over 2,000 Rolla customers and KY3 (KYTV-Springfield) had the most popular local newscast, followed by St. Louis affiliates KTVI-Fox, KSDK-NBC and KMOV-CBS. An agreement was reached to continue carrying KY3, the Springfield NBC affiliate, on the Rolla system.