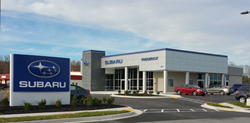 Frederick, Maryland (PRWEB) January 12, 2015
Frederick Subaru opened its new showroom at 1417 West Patrick Street on November 28, 2014. Having more than doubled in sales volume since 2011, more room was required to better serve the needs of their customers in both sales and service. Frederick Subaru has been owned and operated by The Frederick Motor Company since the franchise was purchased in 1990. For the past 24 years, the Subaru operation has been run out of the Ford showroom on Waverley Drive. The new building represents the culmination of years of development and planning between The Frederick Motor Company, the City of Frederick, and Subaru of America.
Subaru of America has seen record sales counts set for each of the previous five years. In the middle of November, the total 2014 sales surpassed the sales volume from all of 2013 nationally. In fact, total retail sales are expected to crest over 500,000 units in 2014 for the United States. Frederick Subaru has seen similar sales growth over the same time frame, surpassing the national average with close to a thirty percent growth this year. In five short years, the monthly average sales volume has more than tripled here in Frederick.