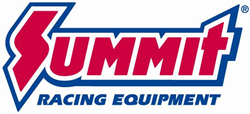 Tallmadge, OH (PRWEB) January 14, 2015
MSD's new Atomic AirForce Intake Manifolds for GM LS engines are now available at Summiit Racing. They feature straighter runners to optimize airflow. A mildly-modded LS7 (cams, headers, tuning) realized a gain of over 20 horsepower and 25 ft.-lbs. of torque with the AirForce manifold installed.
MSD improved the OE design by increasing the overall plenum volume and removing airflow restrictions found in the stock piece. MSD engineers also worked to create equal airflow between the top and bottom runners, which decreases air turbulence.
The manifold design has three built-in MAP provisions, which gives LS-retrofitters sensor relocation options in a cramped engine bay. Atomic AirForce Intake Manifolds work with any 103mm throttle body, both drive-by-wire and drive-by-cable. They're also compatible with stock LS2/LS3 fuel rails, or any similar aftermarket LS2/LS3 application.
The manifolds have an EGR provision; CARB approval is pending as of January 2015.
MSD Atomic AirForce Intake Manifolds are available for the following applications:

See all MSD Atomic AirForce Intake Manifolds at Summit Racing
Summit Racing Equipment
http://www.SummitRacing.com
1-800-230-3030