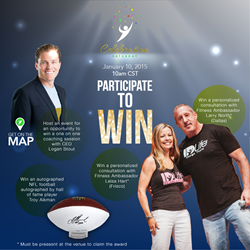 Attendees can enter to win 1 of 3 onsite prizes. Including an Official NFL Football autographed by Troy Aikman.
(PRWEB) January 09, 2015
IDLife is a health and wellness company in Frisco, Texas that provides a personalized supplement product (IDNutrition). The ground breaking product begins with a HIPAA compliant personal wellness assessment, which provides recommendations based on more than 4,000 algorithms that process the data.
IDNutrition then recommends what vitamins and minerals you need, and leaves out what you don't, and blocks things known to the system to have a possible adverse effects based on the answers you provide, including age, medications and lifestyle factors. The result is a program that is revolutionizing the health and wellness industry.*
In addition to the IDNutrition product, IDLife manufacturers a complete line of sports performance and nutritional supplements.
IDLife is hosting a no-cost motivational and information event in Frisco Texas called Celebration Saturday. The event will feature notable fitness thought leaders including Leisa Hart (Buns of Steel), Larry North and leadership expert and author, Keith Craft. The event is open to all attendees and guests.
Saturday January 10 - 10:00 a.m. (CST)
Elevate Life
8300 Teel Parkway
Frisco, Texas 75034
Attendees can enter to win 1 of 3 onsite prizes including an Official NFL Football autographed by Troy Aikman, celebrity fitness consultations, IDGear gifts and promotional information. Individuals interested in small business opportunities as independent Associates for IDLife may attend to learn more.
All live attendees will receive a complimentary IDLife gift at the end of the event.
Offsite participants can tune in to the live simulcast of the event online, starting at 10:00 a.m. or join IDLife on Facebook and Twitter using the hashtag #CelebrationSaturday.
About IDLife
IDLife, LLC s a Frisco Texas based company that provides individualized nutrition, starting with a HIPAA compliant online assessment. Take the guesswork out of your daily nutritional supplements. You are unique, and your nutrition should be too.
For general information please call IDLife at: (972) 987-4430 or visit us online at http://www.IDLife.com For media inquiries please contact Lori A. Reese, Director of Marketing: Lori.Reese(at)IDLife(dot)com
Corporate Address: 10825 John W. Elliott Drive, Suite 100 Frisco Texas, 75034.
*These statements have not been evaluated by the Food and Drug Administration. This product is not intended to diagnose, treat, cure or prevent any disease
*IDLife does not represent that its products are certified organic under the United States Department of Agriculture rules and regulations.