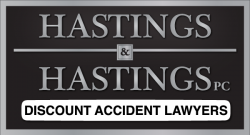 Phoenix, AZ (PRWEB) January 11, 2015
Hastings and Hastings, a trusted Arizona discount accident lawyer with more than 30 years of practical experience in the industry announces record demand in 2014 for legal representation regarding nighttime trucker related accidents. It is a long known fact that large heavy trucks and 18-wheelers on the major highways of the country have caused a multitude of accidents over the years and decades. In many instances, these accidents involve catastrophic injuries and loss of life. Hastings and Hastings has a respected reputation throughout the Arizona community and among its previous and existing clients. The firm handles a wide range of injuries associated with a multitude of accidents that happen each and every day throughout the state.
From fractures to paralysis conditions and brain injuries as well as burns and loss of limb accidents, Hastings and Hastings is a firm that stands behind its promise of providing the absolute best in service for clients. This combined with the fact that the firm offers impressive discounts on attorney's fees let's clients throughout Arizona know that they have chosen a dedicated and focused personal injury law firm. Regardless of where clients live in the Valley, there is likely a Hastings and Hastings office nearby. In addition to having multiple offices throughout the greater Phoenix metropolitan area, the firm also makes available on-demand consultations for those that are unable to travel. From being confined to a hospital bed to being confined to the home environment, Hastings and Hastings has helped many clients over the years receive focused legal representation when it is needed the most.
Hastings and Hastings routinely works on catastrophic injury related events as well as wrongful death events and motorcycle collisions. In addition injuries sustained while riding a bicycle and dog bite related injuries along with slip and fall accident injuries are all treated with the same professional focus and attention to detail. Hastings and Hastings has a tried and tested reputation throughout the community, among legal peers and clients that have had the opportunity to work with the firm.
Considered a true discount accident lawyer, Hastings and Hastings takes the time to work on a personal level with each and every client. This takes the pressure and stress out of dealing with the complexities of pursuing a recovery effort. With a growing number of people becoming injured throughout Arizona and within the city limits of Phoenix, having experienced legal representation can make all the difference. This recent announcement with regard to record demand in 2014 for legal representation regarding nighttime trucker related accidents is just one more key indicator that Hastings and Hastings is a firm that stands behind its promises of providing discounted legal services without discounting the quality of representation.
Hastings and Hastings is a leading provider of discount personal injury legal services located in and serving the greater Phoenix Metropolitan area. This respected legal firm specializes in assisting individuals that have been the victim of serious injuries that have resulted from accidents that were not fault of their own. Hastings and Hastings is a trusted group of attorneys that deliver personalized service and guidance for injury victims throughout Phoenix and all across the state of Arizona. Hastings and Hastings is known throughout legal circles as a dedicated team of professionals and a law firm that has been representing accident victims throughout Arizona for decades. Hastings and Hastings has consistently exceeds client's expectations with regard to representing a wide array of accident related injury victims at times when it matters the most and always doing so with discount attorney's Fees.