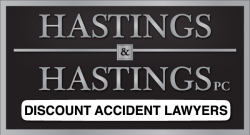 Phoenix, AZ (PRWEB) January 23, 2015
Hastings and Hastings, a law firm in Arizona that focuses on personal injury matters, reports a record number of legal representation client review requests for slip and fall accidents in 2014. Statistically speaking, there has been a steady rise in the number of slip and fall related accidents that happen both at work and at home throughout the Valley. With that said, a large number of injury victims are requesting that their accident be reviewed by an experienced law firm. Hastings and Hastings is a personal injury firm in Arizona that has an excess of 30 years of total industry experience. The firm offers clients multiple office locations throughout Arizona with each office having several qualified attorneys making it easy and convenient for those who have been injured through no fault of their own to find the legal representation that they need and deserve.
Hastings and Hastings is a firm that is strongly focused on quality control. This simply means that Hastings and Hastings takes the time to carefully choose attorneys who join the firm. Each attorney is carefully selected and goes through a detailed process prior to joining the Hastings and Hastings legal group. Once an attorney joins the firm they are closely supervised by senior partners to ensure the highest levels of quality control at all times. This is an important consideration for those who have been injured due to the negligence of another individual. When injuries occur that are someone else's fault it is essential to increase one's chances of gaining a successful recovery.
This is important because a recovery is intended to help those who been injured in some type of accident as a way to cover medical expenses and the expenses associated with lost wages. Taking it a step further, Hastings and Hastings is a firm that delivers on its promises when it comes to discounted attorney's fees. In short, Hastings and Hastings provides clients with the opportunity to retain a greater portion of any successful recovery. Saving clients money in this way simply means that they have greater financial resources to handle the costs associated with injuries resulting from an accident. The firm is proud of its more than 150 years of cumulative and combined legal experience and offers free consultations to anyone who has experienced some type of injury resulting from an accident. Saving clients money and making legal representation easy and convenient is what the firm has done for more than three decades. This recent announcement with regard to a record number of legal representation client review requests for slip and fall accidents in 2014 is more proof that Hastings and Hastings has an impressive reputation throughout the Arizona community.
Hastings and Hastings is a leading provider of discount personal injury legal services located in and serving the greater Phoenix Metropolitan area. This respected legal firm specializes in assisting individuals that have been the victim of serious injuries that have resulted from accidents that were not fault of their own. Hastings and Hastings is a trusted group of attorneys that deliver personalized service and guidance for injury victims throughout Phoenix and all across the state of Arizona. Hastings and Hastings is known throughout legal circles as a dedicated team of professionals and a law firm that has been representing accident victims throughout Arizona for decades. Hastings and Hastings has consistently exceeds client's expectations with regard to representing a wide array of accident related injury victims at times when it matters the most and always doing so with discount attorney's Fees.