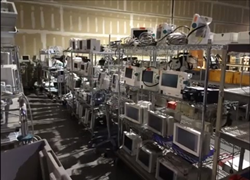 Las Vegas, NV (PRWEB) January 10, 2015
Centurion Service Group, the world's largest medical equipment auction house, is proud to announce the upcoming live auction to sell over 2,400 pieces of medical equipment.
The auction will take place Tuesday, January 13 and Wednesday, January 14 starting at 9:00am PST each day. The equipment will be sold at their Las Vegas warehouse located at 4606 Andrews St. Suite 3, North Las Vegas, NV 89081. Anyone can participate in the auction, including those off site. Centurion Service Group will be offering online simulcast bidding and theater style bidding. Registration information and the complete list of medical equipment can be found at http://www.centurionservice.com.
A few highlights of the sale are: a DaVinci Surgical Robot, Drager Evita 4 Neoflow and Drager Evita XL Ventilators (2 of each), Olympus 160 series video endoscopy (quantity 3), a Zeiss OPMI Neuro surgical microscope, a Wild Heerbrugg M691 surgical microscope, Datex-Ohmeda Aestiva 5s (quantity 11), and a Steris Amsco 3085 SP OR table.
For more information on this auction or upcoming auctions, please visit http://www.centurionservice.com.