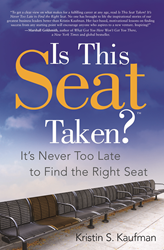 Trust in second chances
Dallas, TX (PRWEB) January 14, 2015
Learn to spot second chances and take action...
New book "Is This Seat Taken: It's Never Too Late to Find the Right Seat" the second in the "Is This Seat Taken" series by Kristin S. Kaufman, president, Alignment, Inc., in Dallas, Texas, profiles the lives of fifteen famous and not-so-famous people who found success later in life to inspire, motivate and challenge readers to trust in second chances.
Many people today are finding themselves in a life they did not plan, expect, or desire and in an exasperated cry to the universe wonder aloud what they will do next.
The dilemma is relevant for anyone, at any age, at any station in life who wakes up one morning and realizes they have come to a fork in the road, but are unsure of how to move forward.
"Is This Seat Taken" gives readers giant B-12 shot of encouragement and guidance and instills them with the confidence to believe in themselves and take action.
Anchored by real-life stories, derived from the lives of men and women who found new and unexpected success––by many definitions––late in life, Kaufman culls the core tenets of their individual life lessons to aspire others to a new venture.
These are stories of so-called late bloomers, those who through serendipity, necessity, desire, and Divine providence created legacies completely unpredictable in their early life.
From American businessman Ray Kroc, who built McDonald's into the most successful fast food operation in the world, to author Laura Ingalls Wilder, swimmer Diana Nyad, fashion designer, Giorgio Armani, actress Kathryn Joosten, business executive, Barbara Miller, dancing sensation, Li Cunxin, artist, Grandma Moses and Kentucky's unlikely Colonel, Harland Sanders amongst others they all found success later in life, in most cases, after the age of fifty.
Marshall Goldsmith, 'New York Times' and global bestselling author of "What Got You Here Won't Get You There" says, "No one has brought to life the inspirational stories of our greatest business leaders better than Kristin Kaufman."
There is not a single human being who at least once in his or her life has not faced an unforeseen situation, a newfound reality, a daunting challenge, or veiled opportunity yet has allowed fear to hold them back.
"Is This Seat Taken" is meant to help readers eliminate that fear and enable them to move forward towards new goals, and take back the reins of their lives and become clear on exactly what they want to do now––and how they wish to contribute to the world.
"Powerful. Inspirational. Actionable," says Doug Parker, Chairman and CEO, American Airlines. "Kristin Kaufman gracefully instills wisdom, insight and practical takeaway advice into real-life success stories."
"This book is relevant for anyone embarking on a new path," says Dr. Eli Jones, Dean of The Sam M. Walton College of Business at The University of Arkansas. "Through rich story-telling, she shares captivating and inspirational life lessons about finding your place at the proverbial table."
We all have the opportunity to do it better, do it differently, or do whatever we have always dreamed of doing this second time around. It's never too late to find the right seat.
To learn more, visit: http://www.kristinkaufman.com
Books are available online and in bookstores.
About the Author
Kristin Kaufman is the founder of Alignment, Inc.,® a unique consultancy committed to increasing alignment within individuals, teams, boards, and organizations in order to release their potential into the marketplace and the world, and to creating sustainable success individually and collectively. Kaufman has held senior executive positions at Hewlett-Packard, Vignette Corporation, and United Healthgroup. She also offered her skills and talents to the New York City Leadership Academy effort, which was the centerpiece of Mayor Michael Bloomberg and Chancellor Joel Klein's school reform platform. She has been awarded the distinction of Professional Certified Coach from the International Coaching Federation and achieved the designation of Certified Leadership Coach from Georgetown University's Institute for Transformational Leadership. Kaufman is a prolific writer. Her first book in the Is This Seat Taken? series centered on her global experiences seeding her own journey to alignment. It was released to national acclaim. She resides in Dallas, Texas, with her rescued white schnauzer and constant companion, LuLu.