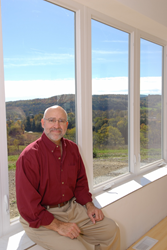 Cooperstown, NY (PRWEB) January 13, 2015
Glimmerglass Radio, the only green living talk radio station in America, has marked its one year anniversary by completing its programming line-up with 54 radio programs dedicated to news and information related to all things green. To meet the rising interest in energy, the environment and healthy lifestyles, the station now broadcasts a unique mix of "green" radio shows 24 hours a day, seven days a week.
"We started as a local radio station with vintage music and comedy shows," says John Kosmer, founder of Glimmerglass Radio. "My passion is all things related to green living and the environment. Right from the beginning I wanted to change the focus to radio shows that serve a purpose for people and communicate the green message. Now, a year later, we have the only Green Talk Radio Station in America."
Working solo and with no budget, Kosmer transformed Glimmerglass Radio into the single radio source for all things green. The content mix of 54 shows includes well-known radio broadcasts such as An Organic Conversation, Big Picture Science, The Farm Report and Home Style Green.
As the one source for green living information, listeners can tune in to Glimmerglass Radio on their computer, Smartphone® and TouchPad® to stay updated on important environmental information. From the Vegetable Gardening to Little Atoms to Cutting the Curd, the station offers valuable programming for all age ranges of consumers with a wide variety of green interests.
"The response and acceptance of our dedicated green radio station has been encouraging," says Kosmer. "We've put together a unique mix of green topics that touch on everything from climate change to food, wine and spirits. During the week listeners can learn about green living and building, science and technology, renewable energy, farming, gardening and cooking! This dedicated attention to green living is totally unique in today's radio marketplace and fills a void in radio programming."
Describing his efforts as "the little engine that could," Kosmer has been able to reach agreements to have Glimmerglass Radio broadcast 54 popular shows each week from across the United States, England, Australia and Japan. Eight hours of shows are repeated three times daily, providing 24 continuous hours of green broadcast programs each day.
As a one-man operation with no budget, the launch of Glimmerglass Radio shows how passion and a dedicated focus can produce something unique and worthwhile.
A longtime supporter of living green, Kosmer created his own passive solar house in 2007. His 4,000-square foot home in upstate New York costs an average of just $2.50 per day to heat, despite frigid outside temperatures. That's 70 percent less to heat than a traditional ENERGY STAR® qualified home.
"I'm living the 'green life' that our radio shows talk about all the time," says Kosmer. "Along the way I've found there are many like-minded green advocates around the world. Glimmerglass Radio was created to reach out to those people as a primary green living source for both education and entertainment."
For more information on Glimmerglass Radio, visit http://www.GlimmerglassRadio.com.
###